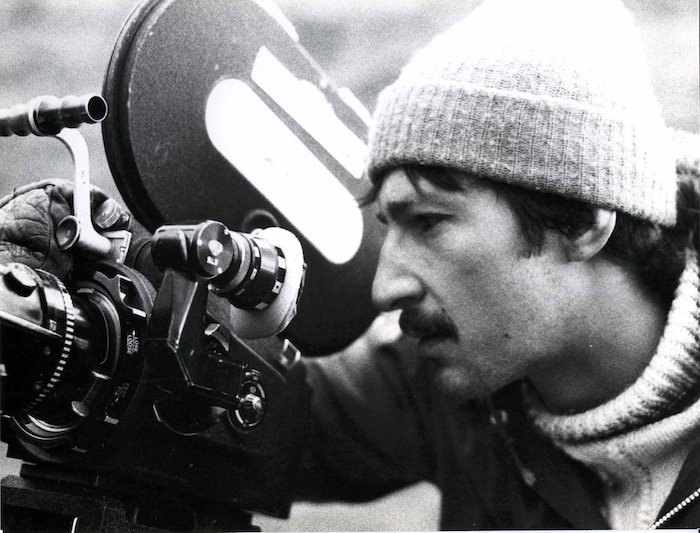 Born in Essex, England in 1952, Chris Meigh-Andrews lived in Montreal, Canada from 1957-75. He studied photography, film & TV at the London College of Printing (1976-79), has an MA in Fine Art, from Goldsmiths (1981-83), and a PhD from the Royal College of Art. (1996-2001)
Working with video in a fine art context since 1977, his single channel video tapes have been screened in the UK, Europe, North & South America, Australia and Japan. Establishing an artist's post-production facility and independent video production company in 1980, he worked as a freelance director and cameraman, video editor, and animator to fund his own experimental video work throughout the 1980's. An active member of London Video Arts from 1980, he was chairman of the Council of Management 1987-89.
Since 1990, Meigh-Andrews has specialised in sculptural and projection video installations, including commissioned and site-specific works which have been shown in the UK, Europe and Canada. He has been Resident Artist in Electronic Imaging at Oxford Brookes University (1994), Artist in Residence at the Saw Contemporary Arts Centre in Ottawa, Canada (1994), Video Artist in Residence at Middlesbrough Gallery, Cleveland (1995), Video Artist in Residence at the Prema Arts Centre in Gloucestershire (1995) and Arts Council of England International Artist Fellow, at Bunkier Sztuki, in Krakow, Poland (2003-04).
Recent work includes Mind's Eye (1997), a 5 screen installation featuring MRI brain scans, 'Mothlight' (1998), and 'Mothlight II' (2001) which features halogen lamps, solar panels and video monitors in delicate counter-balance, 'Merging/Emerging' (1999) a site-specific digital installation featuring video projection and a linked web-site for the Bath International Music Festival, and 'A Photographic Truth', a digital projection for the Canon Photography Gallery at the Victoria & Albert Museum. (2001.) In 2002, his solar-powered digital video installation For William Henry Fox Talbot (The Pencil of Nature) was featured in 'Digital Interventions', a year-long exhibition at the V&A, London.
In 2003 Meigh-Andrews was commissioned to produce 'Temporal View in Amsterdam' for Huis Marseilles Foundation for Photography in Amsterdam, and in September 2004 he completed a NESTA/ACE funded research project creating an outdoor 'self-powered' video installation Intervowen Motion for the Foundation for Art & Creative Technology (FACT), with support from Grizedale Arts.
In 2005-06 Meigh-Andrews exhibited 'Resurrection' a solar-powered video installation in Digital Discourse, an exhibition of new work by eight international artists timed to coincide with the Commonwealth Heads of Government Conference (CHOGM), in Valetta, Malta, with support from the British Council.
Currently Professor of Electronic & Digital Art at the University of Central Lancashire, he is director of The Electronic & Digital Art Unit (EDAU) (www.uclan.ac.uk/edau), a centre for post-graduate research. He is co-curator (with Catherine Elwes) of 'Analogue: Pioneering Artists' Video from the UK, Canada and Poland; 1968-88′, an international touring exhibition (2006-07) funded by Arts Council, England. His book, 'A History of Video Art: the Development of Form and Function' was published by Berg in September 2006.
Chris Meigh-Andrews

View the interview transcript here

Exhibitions:

SOLO SHOWS

1982
Chris Meigh-Andrews, The Basement, Newcastle-upon-Tyne

1992
Heaven & Earth, London Film-Maker's Co-op, London

1994
Perpetual Motion, Saw Contemporary Arts Centre. Ottawa

1995
Vortex, Prema Arts Centre, Uley, Gloucester

1997
Mind's Eye, Hotbath Gallery, Bath

1998
Glass Box Gallery, Salford, Manchester.
Certosa di Calci/Museum of Natural History, Pisa

1999
Mothlight , Rich Women of Zurich, London

2000
Fenetre Digitale, Galeri Brighi, Paris

2001
Mothlight 2, 291 Gallery, London

2004
Wawel z Mostu Debnickiego, Bunkier Sztuki, Krakow

SELECTED GROUP EXHIBITIONS

1977
New British Image, Side Gallery, Newcastle (& UK Tour: 1978-79)

1979
The New Contemporaries, ICA , London

1981
Atelier Ste. Anne, Brussels

1983
New British Video, Museum of Long Beach, California

1984
Summary Video UK, ICA, London
The British/Canadian Video Exchange, A Space, Toronto
Olympus Gallery, London, January
Video/Performance, The Photographers Gallery, London

1986
Breaking Boundaries, Channel 6, ICA, London
Light Years, London Film-Makers Co-op
New British Video, Atelilier de Pedegogie et d'animation, Strasbourg

1987
British Video Art & Experimental Film, Mucsarnok, Budapest

1988
The Art of Understatement: Recent British Video, Madrid
Genlock, Interim Arts, London, (& UK Tour: 1988-89)

1988-89
Electric Eyes: British Artists Video 1985-88: Tate Gallery, ICA, London; Sao Paulo; Museo de Arte Moderno Medellin, Columbia; Akademie der Bildenden Kunst, Vienna. (& UK Tour)

1989
External Affairs, Canada House Gallery, London.

1990
Visions & Transmissions, Harris Museum, Preston.

1991
4xVideo, Galeri OneOne, Antwerp
New Art Northwest Mercury Court, Liverpool.

1992
European Media Art Festival, Osnabruck

1993
River Crossings, Camerawork, (The Caf» Gallery) London.
Quick!, Royal Festival Hall, The South Bank Centre, London

1995
ArCade, Digital Creativity, University of Brighton (Touring UK: 1995-97)

1996
Back/Slash, Castlefield Gallery, Manchester

1999
Submerged, Bath International Music Festival, Bath

2001
Interstanding 4, Centre for Contemporary Arts, Tallinn
Rural England Through a Victorian Lens: Benjamin Brecknell Turner, Canon Photography Gallery, The Victoria & Albert Museum, London
AnOther Place, Storey Institute, Lancaster

2002-3
Smog, London School of Hygiene & Tropical Medicine
Digital Responses, Victoria & Albert Museum

2003
A Photographic Truth, Huis Marseille Foundation, Amsterdam

2004
Short Histories of Video Art, From the Mid-Sixties to the Present, (Part 2), John Hansard Gallery, Southampton
Experiments in Moving Image, Lumiere Cinema, London

2005
Digital Discourse, Cavalier St. James Centre for Creativity, Valetta

2006
Collected Works, Lethaby Gallery, Central St Martins College of Art and Design, London
Crossing the Atlantic; Uneasy Spaces, 80 Washington Square East Galleries, New York

2006-7
Analogue: Pioneering British, Canadian and Polish Artists Video, (1968-88), Tate Modern and Tate Britain, Nov- Dec. 2006. Anthology Film Archives, New York, Jan 2007,
Norwich Gallery, Jan 2007
FACT, Liverpool, March 2007.

EVENTS & FESTIVALS

1979
Rusden State College, Victoria, (Australia)

1980-2 & 1987
National Video Festival, South Hill Park, Bracknell, Berkshire.

1981
Fourth Annual Tokyo Video Festival, Tokyo
London Video Arts at the London Musician's Collective
New Acquisitions, Art Metropole, Toronto

1982
Three-Quarter Inch Productions: Chris Meigh-Andrews, Cairn, Paris
Video Screenings: Chris Andrews, ICA Cinematheque, London

1983
The Expanded Media Show, Sheffield City Polytechnic
LVA Gallery, London
Ljublana Festival, Ljublana

1984
Video by Artists, National Film Theatre, London

1984-85
The Ottawa International Festival of Video Art, Canadian tour.

1999
Place Setting, (with Peter Ting) Victoria & Albert Museum, London.

2001
Mute Loops, Lux Gallery, London
The British Landscape Through the Lens, Tate Britain, London

2002
Tabala Rasa, Croydon Clocktower

2004
Interwoven Motion, Grizedale Forest, Cumbria

Videography:

1977
Continuum (2 screen videotape, with Gabrielle Bown)

1978
The Docklands Project (2 screen videotape, with Chris Hartwill)
The Viewer's Receptive Capacity (videotape, with Gabrielle Bown)

1979
3:4 (videotape, with Gabrielle Bown)
Horizontal & Vertical (videotape)
Scanning (videotape)
Clock-Wise & Counter-Clockwise (videotape)
On the Pier (videotape)

1980
The Distracted Driver (videotape)
Field Study (installation)

1981
The Chance Meeting (videotape)

1982
The Room with a View (videotape)
Time Travelling/A true Story (videotape)

1983
Interlude (Homage to Bugs Bunny) (videotape)
Light, Time, Memory…… (installation)

1984
5 Minutes (videotape)
Still Life with Monitor (videotape)
Inspiration (site-specific installation)

1985
On Being (videotape)

1986
Other Spaces (videotape)
An Imaginary Landscape (videotape)

1987
The Stream (videotape)

1988
An Imaginary Fountain (installation)

1990
Eau d'Artifice (installation)

1991
Streamline (installation)

1992
Heaven & Earth (site-specific installation)
Domestic Landscapes (videotape)

1993
Cross-Currents (site-specific installation)
Zoetrope (installation)

1994
Perpetual Motion (installation)
Domestic Landscapes (CD -ROM)
A Sense of Myself (CD-ROM)

1995
For John Cage (installation)
Fire, Ice & Steam (site-specific installation)
Vortex (site-specic installation)

1997
Mind's Eye (installation)

1998
Mothlight (installation)

1999
Merging/Emerging (site-specific installation)

2000
Place Setting (site-specific installation, with Peter Ting)
Fenetre Digitale (site-specific installation)

2001
A Photographic Truth (installation)

2002
For William Henry Fox Talbot (The Pencil of Nature)
Returning

2003
Temporal View in Amsterdam

2004
Wawel Castle from Debenicki Bridge (After Ignacy Kreiger)
Intervowen Motion (site-specific installation)

2005
Resurrection (Projection installation)

External Links:

Artist works:

Artist assets: