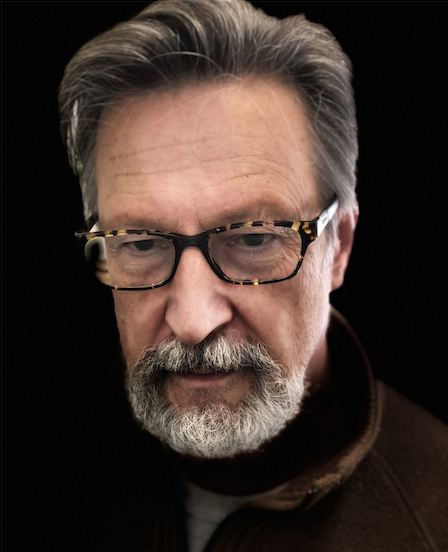 Meigh-Andrews first experimented with video in Montreal in 1973 and began exhibiting his work internationally in the late 1970's. His early single screen video works have featured in a number of key exhibitions: "Short Histories of Video Art, (Part 2)", John Hansard Gallery, Southampton, 2004; "Electric Eyes: British Artists' Video 1985-88", Tate Gallery and the Institute of Contemporary Art (ICA), London; Museo de Arte Moderno, Medellin, Columbia, Akademie der Bildenden Kunst, Vienna 1988; "Genlock", Interim Arts, London, (& Touring) 1988; "Video from the 70's and 80's", Doggerfisher, Edinburgh, 2008; "Analogue: Pioneering British, Canadian and Polish Artists' Video",(1968-88), Tate Britain, Anthology Film Archives, New York, Foundation for Art & Creative Technology (FACT), Liverpool, Museum of Contemporary Canadian Art, (MOCCA),Toronto, Arsenal Institute fur Film und Videokunst, Berlin, and the Centre for Contemporary Art, Warsaw, 2007-08 and "The Self & Surroundings", Dundee Contemporary Arts Centre, 2012. His early video work also features in two DVD collections: "Rewind and Play: An Anthology of Early British Video Art", Lux/Rewind, (2009) and "New Contemporaries Moving Image: 1968-2010", Bloomberg/New Contemporaries, (2014).
Installation commissions include the Harris Museum, Preston (Eau d'Artifice, 1990); the Foundation for Art and Creative Technology (FACT), Liverpool, (Streamline, 1991); Camerawork, London (Cross Currents, 1993); Bath International Music Festival (Merging/Emerging, 1999); Victoria & Albert Museum, London, (A Photographic truth, 2001) and For William Henry Fox Talbot: the Pencil of Nature (2004); Huis Marseille Foundation of Photography (Temporal View in Amsterdam, 2003); the London School of Hygiene and Tropical Medicine (Returning, 2002) and Cavalier St James Centre for Creativity, Valletta (Resurrection, 2005).
Meigh-Andrews' site-specific installations often incorporate renewable energy systems, establishing direct relationships with the natural and constructed environment. Interwoven Motion, a prototype self-powered outdoor video installation for Grizedale Forest was developed with a research award from the National Endowment of Science, Technology and the Arts (NESTA) and Arts Council England in 2004. His installation, The Monument Project (Si Monumentum Requiris, Circumspice), commissioned by architects Julian Harrap, produced a continuous stream of panoramic images from the top of the Monument in the City of London 24/7 for three years (2009-2011). Aeolian Processes (Box Revealing the Sound of its Own Making), was produced for "La Lune: Energy Producing Art", New South Wales, Australia (2014); In Darwin's Garden, an augmented reality installation, produced in association with the National Trust was featured in the Leonardo Electronic Almanac, and Kasa Gallery, Sabinsi University, Istanbul, (2012) and Oriel Sycarth, Wrexham (2017). In 2017 his two-channel outdoor installation For Issac, Alan & Steve was long-listed for the Aesthetica Art Prize.
Examples of his single screen video, installation and photographic work are held in a number of national and international collections including the Victoria and Albert Museum, London; Stadsarchief, Amsterdam, Muzeum Historii Fotografii, Krakow; The Harris Museum and Art Gallery, Preston; The Scottish Screen Archive at the National Library of Scotland; The British Artists' Film & Video Collection and the Lux Collection, as well as in a number of private collections. Documentation of his early video and installation work and a substantial collection of his photographs, papers, notes and writings have been acquired by the archive at Tate Britain.
Meigh-Andrews studied at the London College of Printing (Higher Dip. in Photography Film & TV), Goldsmiths (MA, Fine art) and the Royal College of Art (PhD). He was Arts Council International Artist Fellow, Galeria Sztuki WspÛlczesnej, Krakow, Poland, (2003-2004); Video Artist in Residence, Prema Arts Centre, Gloucester (1995); Video Artist in Residence, Cleveland Arts (1995); Artist in Residence, Saw Contemporary Art Centre, Ottawa, Canada (1994); Resident Artist in Digital Imaging, School of Visual Arts, Music & Publishing, Oxford Brookes University, (1994), Cambridge School of Art, Anglia Ruskin University (2017-18) and Gozo Contemporary , Malta (2022).
Curatorial projects include Yes, Snow Show, (British Film Institute, 2009), Analogue: Artists' Video from the UK, Canada and Poland: 1968-88, (Tate Britain and Tate Modern, London, touring to venues in Liverpool, Norwich, Warsaw, New York, Toronto, Ottawa, Valletta and Berlin: 2006-2009) and The Digital Aesthetic, a series of exhibitions and symposia organised in collaboration with the Harris Museum, Preston (2001, 2007 & 2012), Analogue & Digital, Fieldgate Gallery, London 2007 and Meta Landscapes: Representations & Perceptions, Valletta Contemporary, 2022.
During the 1980's Meigh-Andrews taught at a number of art schools and institutions including The London College of Printing, The London International Film School, Maidstone School of Art and Leicester Polytechnic. However, his main teaching role was at the University of Central Lancashire (1984- 2012). Whilst working at Uclan he initiated and was head of Time-Based Media (1986-2000), co-founded the MA Fine Art course and established the Electronic & Digital Art Unit (EDAU), a centre for post-graduate research. He was made Reader in 2000, Professor in 2007 and Professor Emeritus on his retirement from teaching in 2012.
Meigh-Andrews has written extensively on the history and context of artists' video. His book, A History of Video Art: The Development of Form and Function, Berg, (Oxford and New York, 2006) and in Japanese by Sangensha, (Tokyo, 2013), provides an overview of the development of artists' video since its inception. An enlarged and expanded edition of the book was published by Bloomsbury, (London and New York, 2013) and in Mandarin by China Pictorial Publishing House, (Beijing, 2018). Contributions to other books include "Digital Moving Image Installations and Renewable Energy: 1994-2018", Technology, Design and the Arts–Challenges and Opportunities, Springer Books, Cham, Switzerland, 2020; "The Emergence of Early Artists' Video in Europe and the USA and its Relationship to Broadcast TV", in Materializing Memories: Dispositifs, Generations, Amateurs, Bloomsbury, (London and New York, 2018); "Location & Dislocation, Site & Architecture: Video Installation by Palestinian Artists", in Palestinian Video Art: Constellation of the Moving Image, Bashir Makhoul, ed, Palestinian Art Court-al Hoash, (Jerusalem, 2013.) "Optiks: Peter Campus", in The BFI Gallery Book, British Film Institute, (London, 2011) and "Video Installation in Europe and the USA: The Expansion and Exploration of Electronic and Televisual Space: 1968-1988", inExpanded Cinema: Film Art Performance, Tate Publications, (London, 2011.);"Interwoven Motion: Steps Towards a Semi-Permanent Outdoor Self-Powered Video Installation", in The Itemisation of Creative Knowledge, FACT/ Liverpool University Press, (Liverpool, 2006); "The Vasulka Tapes" in Vasulka Lab 1969-2005-Live Archive, Vivid, Birmingham, 2006; "Chris Meigh-Andrews: Early Video Tapes: 1978-87" in Experimental Film and Video, Jackie Hatfield, ed.,John Libbey Publishing,(Hertfordshire, 2006). He is currently Editor-in-Chief, (UK and Europe) of the forthcoming three-volume Encyclopedia of New Media Art for Bloomsbury Academic.
updated June 2022
Chris Meigh-Andrews

View the interview transcript here

Exhibitions:

SOLO SHOWS

1982
Chris Meigh-Andrews, The Basement, Newcastle-upon-Tyne.

1992
Heaven & Earth, London Film-Maker's Co-op, London.

1994
Perpetual Motion, Saw Contemporary Arts Centre. Ottawa, Canada.

1995
Vortex, Prema Arts Centre, Uley, Gloucester.

1997
Mind's Eye, Hotbath Gallery, Bath.

1998
Glass Box Gallery, Salford, Manchester.
Certosa di Calci/Museum of Natural History, Pisa, Italy.

1999
Mothlight , Rich Women of Zurich, London.

2000
Fenetre Digitale, Galeri Brighi, Paris, France.

2001
Mothlight 2, 291 Gallery, London.

2004
Wawel z Mostu Debnickiego, Galeria Sztuki Wspólczesnej, Krakow, Poland.

2009

The Monument Project (Si Monumentum Requiris Circumspice), Project Launch, Nunnery Gallery, London.

2012

In Darwin's Garden, Leonardo Electronic Almanac and Kasa Gallery, Sabinsi University, Istanbul, August.

2014

Sculpting in Light & Time: Video & Installations: 1978-2014, The Minories Gallery, Colchester.

2019

The Sky is For All, Ruskin Gallery, Cambridge School of Art, Anglia Ruskin University, Cambridge.

2020

Some Impossible Objects: Four New Works, The Benham Gallery, Colchester.

All the Water I Drank During Lockdown, 10 Trinity St, Colchester.

SELECTED GROUP EXHIBITIONS

1977
New British Image, Side Gallery, Newcastle (& UK Tour: 1978-79)

1979
The New Contemporaries, ICA , London.

1981
Atelier Ste. Anne, Brussels, Belgium.

1983
New British Video, Museum of Long Beach, California, USA.

1984
Summary Video UK, ICA, London.
The British/Canadian Video Exchange, A Space, Toronto, Canada.
Olympus Gallery, London.
Video/Performance, The Photographers Gallery, London.

1986
Breaking Boundaries, Channel 6, ICA, London.
Light Years, London Film-Makers Co-op, London.
New British Video, Atelilier de Pedegogie et d'animation, Strasbourg, Belgium.

1987
British Video Art & Experimental Film, Mucsarnok, Budapest, Hungary.

1988
The Art of Understatement: Recent British Video, Madrid, Spain.
Genlock, Interim Arts, London, (& UK Tour: 1988-89).

1988-89
Electric Eyes: British Artists Video 1985-88: Tate Gallery, ICA, London; Sao Paulo; Museo de Arte Moderno Medellin, Columbia; Akademie der Bildenden Kunst, Vienna. (& UK Tour)

1989
External Affairs, Canada House Gallery, London.

1990
Visions & Transmissions, Harris Museum, Preston.

1991
4xVideo, Galeri OneOne, Antwerp, Belgium.
New Art Northwest Mercury Court, Liverpool.

1992
European Media Art Festival, Osnabruck, Germany.

1993
River Crossings, Camerawork, (The Caf» Gallery) London.
Quick!, Royal Festival Hall, The South Bank Centre, London.

1995
ArCade, Digital Creativity, University of Brighton (Touring UK: 1995-97).

1996
Back/Slash, Castlefield Gallery, Mancheste.r

1999
Submerged, Bath International Music Festival, Bath.

2001
Interstanding 4, Centre for Contemporary Arts, Tallinn, Estonia.
Rural England Through a Victorian Lens: Benjamin Brecknell Turner, Canon Photography Gallery, The Victoria & Albert Museum, London.
AnOther Place, Storey Institute, Lancaster.

2002-3
Smog, London School of Hygiene & Tropical Medicine, London.
Digital Responses, Victoria & Albert Museum, London.

2003
A Photographic Truth, Huis Marseille Foundation, Amsterdam, Netherlands.

2004
Short Histories of Video Art, From the Mid-Sixties to the Present, (Part 2), John Hansard Gallery, Southampton.
Experiments in Moving Image, Lumiere Cinema, London.

2005
Digital Discourse, Cavalier St. James Centre for Creativity, Valetta, Malta.

2006
Collected Works, Lethaby Gallery, Central St Martins College of Art and Design, London.
Crossing the Atlantic; Uneasy Spaces, 80 Washington Square East Galleries, New York, USA.

2006-08
Analogue: Pioneering British, Canadian and Polish Artists Video, (1968-88), Tate Modern and Tate Britain, Nov- Dec. 2006. Anthology Film Archives, New York, Jan 2007, Norwich Gallery, Jan 2007, FACT, Liverpool, March 2007. Museum of Contemporary Canadian Art, Toronto, Nov 2007; St James Cavalier Centre for Creativity, Valletta, Oct-Dec 2007; Arsenal: Institute fur Film und Videokunst, Berlin, March, 2008; Centre for Contemporary Art, Warsaw, Nov. 2008.

2007

Punctum, Redchurch Gallery, London.

2008

Video from the 70's and 80's, Doggerfisher, Edinburgh.

2009

Scratch Video, Street Level Gallery, Glasgow.

2010

De eerste foto's van Amsterdam: 1845-1875, Stadsarchief, Amsterdam.

2011

Light & Dark/Motion & Stasis, Gooden Gallery, London.

2012

The Self & Surroundings, Dundee Contemporary Arts Centre.

2013

Re- Location 2013, Fabrica, Novi Sad, Serbia.

Art in Your Park, Highfields Park, Nottingham.

2014

La Lune: Energy Producing Art, Long Ridge, Sydney, Australia.

2016

Art, Science, Life, Ipswich Museum, Ipswich.

2017

Carbon Meets Silicon, Oriel Sycharth, Wrexham.

2018

Visions of Science, Andrew Brownsword Gallery, Bath.

2020

Turner–Stilte in de Stad, Stadsarchief, Amsterdam, Netherlands.

2022

Meta Landscapes: Representations & Perceptions, Valletta Contemporary, Valletta, Malta.

EVENTS & FESTIVALS

1979
Rusden State College, Victoria, Australia.

1980-2 & 1987
National Video Festival, South Hill Park, Bracknell, Berkshire.

1981
Fourth Annual Tokyo Video Festival, Tokyo, Japan.
London Video Arts at the London Musician's Collective
New Acquisitions, Art Metropole, Toronto, Canada.

1982
Three-Quarter Inch Productions: Chris Meigh-Andrews, Cairn, Paris, France.
Video Screenings: Chris Andrews, ICA Cinematheque, London.

1983
The Expanded Media Show, Sheffield City Polytechnic
LVA Gallery, London
Ljublana Festival, Ljublana, Yugoslavia.

1984
Video by Artists, National Film Theatre, London.

1984-85
The Ottawa International Festival of Video Art, & Canadian tour.

1999
Place Setting, (with Peter Ting) Victoria & Albert Museum, London.

2001
Mute Loops, Lux Gallery, London
The British Landscape Through the Lens, Tate Britain, London

2002
Tabala Rasa, Croydon Clocktower, Croydon, London.

2004
Interwoven Motion, Grizedale Forest, Cumbria.

2007

The Nature of Systems, NFT, British Film Institute, London.

2008

Scratch Video, Dundee Contemporary Arts, Dundee.

Invideo, Milan, Italy.

2009

Stills, Glasgow, (Rewind + Play, DVD Launch)

Fisheye, Rome, Italy.

2009

With Love from Me to You, James Taylor Gallery, London.

2010

Kyoto Seika University Media Center, Kyoto, Japan.

Chris Meigh-Andrews: National Film Center, National Museum of Modern Art, Tokyo, Japan.

2010-11

One Minute Video, Vol. 4, (Touring UK and Internationally).

2010

City Arts, Ashbury Park, New Jersey, USA.

Record Again, "International Festival of Media Arts", Ankara, Turkey.

2011

Sunbeam, Site-specific Projection, University of Central Lancashire, Preston.

For Japan, Hotshoe Gallery, London.

2012

Decode/Recode, University of Salford, Media City, Salford.

Scratch the Surplus, The Big Yellow Self Storage, Deptford, London.

Welcome to the Treasuredome, ICCI 360 Arena, Weymouth.

One Minute Vol 6, (& Touring UK and Internationally).

2014

One Minute Remix, Pt 2, Furtherafield Gallery, London.

2016

One Minute Vol 9, (Touring UK and Internationally).

2017

Home Video System, Glasgow Film Festival, Glasgow.

2019 & 2020

Stranglelove Festival, Quarterhouse, Folkstone.

Songs of Experience, Istanbul Experimental Film Festival, Istanbul, Turkey.

2021

Fields of View, The Others, Stoke Newington, London.

Videography:

2022: Nothing More Remains (Video projection)

2021: Portland Place (For AL Rees) (Video projection)

2021: Impossible Object Number 8 (Solar Powered Bicycle Helmet) (Sound Sculpture)

2020: Impossible Object Number 7 (All the Water I Drank During Lockdown) (Video installation).

2020: Impossible Object Number 6 (The Quantum Gate), (Sound installation).

2019: Impossible Object Number 5: The Sound of One Wheel Spinning (After Duchamp), (Sound installation).

2019: Climbing Mt Ishizuchi in the Autumn (360 video)

2018: An Unreliable Narrator (Text work: Printed cards and wooden box)

2018: Impossible Object No. 4 (Flying Lampadario) (Video Installation)

2017-2019: Palindrome (Double screen video installation)

2017: Secret Sea (Video Installation)

2017: Impossible Object No. 3 (After Man Ray) (Video Installation)

2016-17: Impossible Object No. 2 (Blue Sky Thinking) (Video Installation)

2016-17: Impossible Object No. 1 (Imagine, No Pollution) (Sound Installation)

2016: For Issac, Alan & Steve (Outdoor video Installation)

2016: Rebirth: Into the Light (Site Specific video installation)

2015: Video Haiku No. 1 (Single screen video)

2015: Returning v. 2 (Video sculpture)

2013-14: Aeolian Processes & Aeolian Processes II (Outdoor site-specific sound installation)

2013: Mount Fuji @ 270 km/h (After Hokusai) (Video installation)

2011-13: In Darwin's Garden (Augmented Reality installation and web-based work)

2012-2013: Autumn Moon (single screen projection and installation)

2011: Sun Beam (Outdoor site-specific projection)

2010: One Minute in Pisa (Video & installation)

2009: Turing Test (Web site and installation)

2009: Xtea (Web site and projection installation)

2009: How Many Greens? (For Stan Brakhage) HD video

2008-2011: The Monument Project (Si Monumentum Requiris Circumspice), (Web site and Outdoor site-specific installation) *

2007: Pisa 1234 (4 channel installation)

2005: Resurrection (Site-Specific installation)

2004: Wawel Castle from Debenicki Bridge (After Ignacy Kreiger) (Videograph and installation) **

2004: Interwoven Motion (Outdoor site-specific installation)

2003: Temporal View in Amsterdam* (Videograph & installation)

2002: Returning* (Video and installation)

2002: For William Henry Fox Talbot (The Pencil of Nature) (Site-specific Installation)*

2001: Mothlight II (Site-specific installation)

2001: A Photographic Truth (Installation & videograph) *

2000: Place Setting (Site-specific installation)

2000: Fenetre Digitale (Site-specific installation)

1999: Merging/Emerging (Site-specific installation)*

1998: Mothlight (Installation)

1997: Mind's Eye (Site-specific installation)

1995: For John Cage (Sound installation)

1995: Fire, Ice & Steam (Site-specific installation) **

1995: Vortex (Site-specific installation) **

1994: Perpetual Motion (installation) **

1994: Domestic Landscapes (Video and CD -ROM) **

1994: A Sense of Myself (CD-ROM) **

1993: Cross-Currents (Site-specific installation) *

1993: Zoetrope (installation)

1992: Heaven & Earth (Site-specific installation)

1992: Domestic Landscapes (videotape)

1991: Streamline (installation) *

1990: Eau d'Artifice (installation) *

1988: An Imaginary Fountain (installation)

1987: The Stream (videotape)

1986: Other Spaces (videotape)

1986: An Imaginary Landscape (videotape)

1985: On Being (videotape)

1984: 5 Minutes (videotape)

1984: Still Life with Monitor (videotape)

1984: Inspiration (Site-specific installation) **

1983: Interlude (Homage to Bugs Bunny) (videotape)

1983: Light, Time, Memory……   (installation)

1982: The Room with a View (videotape)

1982: Time Travelling/A True Story (videotape)

1981: The Chance Meeting (videotape)

1980: The Distracted Driver (videotape)

1980: Field Study (installation)

1979: 3:4 (videotape, with Gabrielle Bown)

1979: Horizontal & Vertical (videotape)

1979: Scanning (videotape)

1979: Clock-Wise & Counter-Clockwise (videotape)

1979: On the Pier (videotape)

1978: The Docklands Project (2 screen videotape, with Chris Hartwill)

1978: The Viewer's Receptive Capacity (videotape, with Gabrielle Bown)

1977: Continuum (2 screen videotape, with Gabrielle Bown)

*Denotes commission

**Produced as part of a residency

External Links:

Artist works:

Artist assets: