REWINDItalia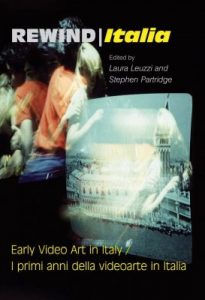 REWINDItalia (2011-2014) was an AHRC funded research project, based at DJCAD, University of Dundee. The research project aimed to retrace, reassess and bring under the spotlight the pioneering experimentation of video as an art practice developed in Italy from late 60s to the end of 80s.
The project investigated the most relevant Italian video art centres, including: art/tapes/22 in Florence, directed by Maria Gloria Bicocchi; Centro Video Arte in Ferrara directed by Lola Bonora; Videoteca Giaccari in Varese directed by Luciano Giaccari; and Galleria del Cavallino in Venice directed by Gabriella and Paolo Cardazzo.
These video centres produced and exhibited fundamental early video artworks by some of the most relevant and renowned Italian, European and American pioneers. Among them, there are: Vito Acconci, Claudio Ambrosini, John Baldessari, Alighiero Boetti, Christian Boltanski, Daniel Buren, Gino De Dominicis, Joan Jonas, Allan Kaprow, Jannis Kounellis, Živa Kraus, Sanja Iveković, Ketty La Rocca, Federica Marangoni, Mario Merz, Nam June Paik, Giulio Paolini, Luca Maria Patella, Michele Sambin, Mario Sillani Djerrahian, Bill Viola, Luigi Viola and many more.
A number of Italian artists were interviewed and feature in the database part of this website, along with associated materials and information on artworks.
REWINDItalia examined major historical and theoretical research questions, including: the cultural context that stimulated such fertile video experimentation; the progressive marginalisation of video art in the early 80s and subsequent oblivion for more than two decades; different approaches to the medium; the legacy of early Italian video art on contemporary practice; archives and preservation; early distribution systems; circulation of international and Italian theories and critical approaches within the country; contemporary exhibition and engagement practices.
Although REWINDItalia did not aim to migrate obsolete formats to digital, a few exceptions were made. For example, a group of seminal early video artworks by media art pioneer Luca Maria Patella was recovered. These videos, uncovered after more than 30 years of oblivion, show Patella's original 'intermedial' and interdisciplinary approach to the medium.
REWINDItalia was presented at several conferences, exhibitions, screenings and events in the UK, Italy, Denmark, the Netherland, France, Switzerland, Poland and Denmark.
Many publications have been dedicated to the findings emerged in the project. These include articles appeared on the peer-reviewed journals N.paradoxa, Engramma, Arabeschi, the Journal of Italian Cinema and Media Studies, Media N, eWic (British Computer Society), Imago. Studi di cinema e media and Acoustic Space Journal.
The main output from the project is the dual language book: REWIND Early Video Art in Italy/I primi anni della videoarte in Italia (New Barnet: John Libbey Publishing, 2015), edited by L. Leuzzi and S. Partridge. This featured new chapters from various authors and also articles translated and made available for the first time in English.
Original Project Team:
PI: Professor Stephen Partridge
CI: Anna Notaro (2011-2012), Professor Sean Cubitt (2012-2014)
AHRC Research Fellow: Dr. Laura Leuzzi
Archivist: Adam Lockhart
Hon Research Fellow: Deirdre Mackenna
Hon Research Fellow: Cinzia Cremona
Interns: Dan Shay, Cara Pirie
Advisory Panel: Vittorio Fagone, Sandra Lischi, Cosetta Saba, Lorenzo Taiuti, Leonardo Quaresima, Valentina Valentini, Luigi Viola