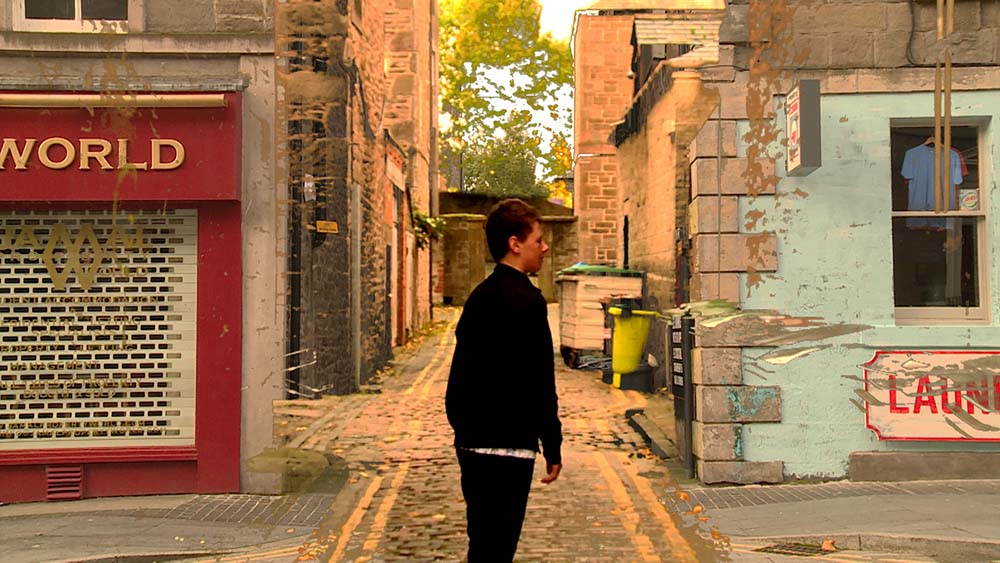 TV21
The TV21 project took place in 2014 and was made possible by AHRC follow on funding for impact and engagement, through the original REWIND project. It was a partnership between DJCAD (University of Dundee) and Dundee Contemporary Arts.
The original REWIND project has profiled and preserved the work of early UK artists, who were exploring a new medium at a time when the practice was extremely innovative and experimental. The significance of this practice and its creative methods was explored through a series of projects with a group of 16-19 year olds from the Dundee area to produce a collection of new video works in response to the archive in a similar manner to the Channel 4 project Telly Pieces in 1990.
The young people were introduced to the work through a series of workshops with REWIND Archivist/Curator, Adam Lockhart. The project tutor, Sandie Jamieson provided training covering camera operation, sound recording, lighting, editing, development of ideas and experimentation. There was a visit from 1970s pioneer David Critchley who led a workshop to re-create one of his early works. Peter Boyd-Maclean, one half of 1980s scratch video artists The Duvet Brothers gave a talk about how he started making experimental artworks and his move into broadcast television. They were visited by Rose Hendry a recent graduate who talked about her work and then conducted a workshop. A visit to BBC Arts at Pacific Quay in Glasgow, also took place, which introduced the group to broadcast television and how programmes are created.
The technological frisson that may have informed the earlier Telly Pieces will no longer exist and that for many of these young people the artworks that maybe appeared curious and dated in their technology. It was therefore important that we were able to frame the archive works and provide a context which foregrounds the conceptual exploration and formal experimentation that informed these works – looking for parallels in more contemporary media. Works were created that echoed the personal, political and formal considerations of the earlier work.
It was important that the young people were encouraged to form their own ideas in the creation of these new works, under good guidance and supervision. The project leaders did not be force their own ideas upon the group but were there to guide the creative process in the right direction.
Each participant created their own short artwork, assisted by the other members of the group. They also engaged with friends, family members and actors from the Acting and Performance courses at Dundee & Angus College.
The resulting artworks were shown at a public screening in Dundee Contemporary Arts alongside work from the REWIND archive that inspired them. These were chosen by each participant.
Information on each work below:
Heather Horsman, Day to Day, 2014, 2 mins
In this piece you see the transformation of a girl as she becomes more and more depressed. This is shown through still images and short shots that represent a record that she takes of herself throughout this time. We see her go from a happy, light-hearted person to someone that seems lifeless and empty. For me this was inspired by my friend and watching her go through it and also the desire to show a slightly different representation of depression that is maybe not very realistic but conveys the hopelessness of it.
Inspired by: Mick Hartney, State of Division, 1978, 5 mins
Catriona Strachan , Pop!, 2014, 4 mins
A white room slowly begins to be filled loads of black bin bags filled with balloons. A girl spots the balloons and begins to free them from the bags. Her joy and enchantment of the balloons is disrupted by the sudden arrival of other young people who run around trying to burst all of the balloons. The girl starts to panic and gets really confused. No one notices that there's something wrong and eventually she falls into all the balloons and disappears under the pile of them. The group stop their frenzied activity only when they find what they were searching for. They leave as quickly as they came and the girl is left lying there, unnoticed.
A kind of message I want to portray is the idea that everyone is self-absorbed and not noticing or helping people that are suffering all around them. There is too much distraction for them to notice. Also that distractions and excuses for not noticing people suffering are kind of trivial and quite sad.
Inspired by: David Hall, Tap Piece from TV Interruptions, 1971, 4 mins
Tara Glenn, 'Dissimilitude', 2014, 2 mins
My experimental film piece shows the moments between the hectic schedules we follow on a day to day basis. It begins with Thomas, dressed in a simple white shirt and black trousers, who walks into a blank, white room. These clips are referred to as scenario #1, are in black and white and are in slow motion. This clip lasts for approximately 15 seconds however is swiftly interrupted by scenario #2 – clips filmed in Dundee city at night showing busyness, lights, colour, loud traffic and people too absorbed in what they are doing to notice themselves breathing, blinking, acknowledging time. In contrast there is another clip of Thomas, completely aware of himself and his surroundings. As this sequence continues, Thomas progressively gets frustrated as the scenario #2 clips intensify, get louder and more uncomfortable.
My inspiration came from David Hall's TV Interruptions. I liked the idea of having something unexpected capturing the audience's attention. Another clip that had a lasting impression on me was Drift Guitars by Tony Sinden, I liked the simplicity of the scene and it was what inspired me to make scenario #1 black and white.
Inspired by: Tony Sinden, Drift Guitars (Extract), 1977, 5 mins (from 22 mins)
Scott Funai, Road to Nowhere, 2014, 3 mins
A young man reflects on failing his exams and an interview where it seems he is also failing to get a job. All he hears from different people is that he is on the road to nowhere.
The inspiration for this project, apart from my own life experiences, was mainly about the idea of not giving up and striving to succeed even though things don't seem to be going well. This is highlighted in the car scene, which appears throughout the piece, where the car is driving in one direction and all the other cars are going in the opposite direction, a metaphor for feelings of heading a different way from most other people. The piece ends on a positive note and the message of perseverance is fulfilled.
Inspired by: Ian Bourn, Breathing Days, 1992, 10 mins
Sam O'Hare, You Never Know What's Around The Corner, 2014, 2 mins
My short film focuses on a character walking through a town centre. He is casually strolling through a street when a light coming from an alleyway catches his eye. The character looks down the alleyway and sees that at the end of the cobbled road there is a glowing light leading to a forest area.  He does a double take before entering this alleyway and is slowly drawn into the forest area. He slowly walks through his new surroundings, trying to make sense of where he is. He receives a  text message and while he is reading the message there is a huge noise and he is forcibly thrown back onto the street in the town centre. Bemused and bewildered he looks around and decides to go back into the alleyway only to discover the forest area is gone and it is just an average alleyway. The character, extremely dazed and confused, leaves the alleyway and continues down the street, wondering what has just happened to him.
My inspiration for this film came from a photo of a skateboarder called Nick Jensen from Grey magazine, a London based skate magazine, who was doing a grind trick on a ledge that was in front of an electricity box. On the other side of the electricity box were three girls who seemed to be going on a night out. The assumption from the photo is that once the skateboarder had landed his trick he might crash into the three girls. From this photo I then got my title for my film, 'You never know what's around the corner', and brainstormed ideas until I felt I had the right one.
Whilst editing my film I came across an quote which adds to the idea of my film -"You never know what's around the corner. It could be everything. Or it could be nothing. You keep putting one foot in front of the other, and then one day you look back and you've climbed a mountain."  – Tom Hiddleston
Inspired by: Ian Bourn, Out of It, 1991, 2 mins
Ali Olivier, 'What we don't see', 2014, 1 min
My project was inspired partly by the scratch videos of the Duvet brothers.
The video is intended be abstract and visually interesting rather than having a strong narrative or any type of rigid structure. The main idea came from the colour and intensity of the scratch video.
I was interested in trying to contrast all the colour with something monochrome and seeing what effect it had. The idea then kind of developed into something else as I tried to edit it in a way that the flashes of colour represent the gaps in our understanding as we are slowly going inside the mind of the character where anything is possible. I deliberately tried to keep the video abstract in the hope that everyone will take something different from it. It was my intention that the colours will represent different things to different people.
Inspired by: The Duvet Brothers, Less Than Zero (Multiscreen Composite), 1987, 4 mins
Original Project Team:
Principal Investigator: Stephen Partridge
Co-Investigator: Clive Gillman
Project Manager and Tutor: Adam Lockhart
Project Tutor: Sandie Jamieson