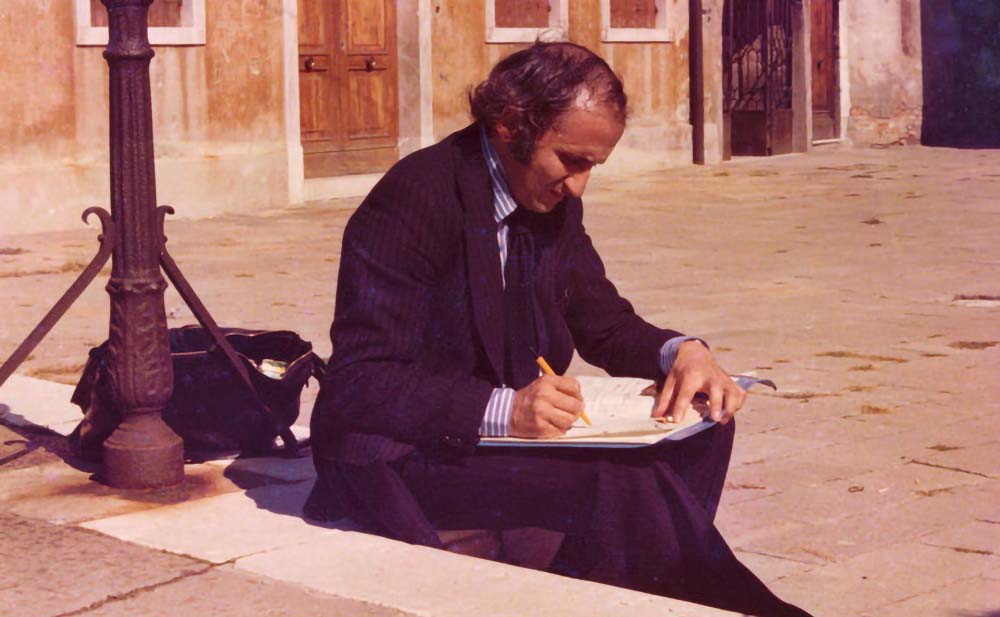 Richard Demarco: The Italian Connection
'Richard Demarco: The Italian Connection' is an AHRC funded research project based at Duncan of Jordastone College of Art & Design (University of Dundee). The aim of the project is to investigate Richard Demarco's under-examined connections to Italy.
Richard Demarco – artist, gallery director, educator, promoter of theatre and cultural commentator– has been a key figure in the promotion of the European avant-garde in Scotland and internationally since the 60s. Although some research and publications have been devoted to Demarco's endeavours, little is known today about his exchanges with Italy, how he promoted Italian visual and performing arts in Scotland and how he influenced the Italian cultural context.
This gap in the historical canon of knowledge is extraordinary because in the Demarco's archives – a portion of which is at the Scottish National Gallery of Modern Art (SNGMA, (representing activities from 1963 to 1995) and a portion at the Demarco European Art Foundation (at Summerhall in Edinburgh) – are many traces of exchanges between Italy and Scotland promoted by Demarco as part of his larger European network and contribution to the Edinburgh Festival. These documents include photographs, ephemera, notes, catalogues and artworks that feature events involving relevant Italian or Italian-based artists, producers, performers, directors, critics including: Palma Bucarelli, the Count Panza di Biumo, Giulio Paolini, Jannis Kounellis, Bruno Ceccobelli, Toti Scialoja, Carlo Quartucci and Carla Tatò, Mimmo Rotella, Mario Merz, Fabrizio Plessi, Achille Bonito Oliva, Maria Gloria Conti Bicocchi, Giuseppe Chiari, Guido Sartorelli.
It remains the case that an extensive body of largely un-catalogued documentation in the Demarco Archives has still not been fully assessed or researched and the strong associations between Scotland and Italy have been overlooked. The network built by Demarco around his Italian connection has only been partially identified and is under-acknowledged. This project will highlight the most important of the exchanges, discussions, and relationships thus far marginalised in previous projects and publications. It will inform those existing materials, and give an underlying context to the history of the Edinburgh Festival and the Fringe.
Ultimately this project aims to retrace and re-assess the cultural bridge between Scotland and Italy, built by Demarco in the spirit of European cooperation and collaboration.
The project website can be found here: italian.demarco-archive.ac.uk
Project Team:
Principal Investigator: Prof Elaine Shemilt
Co Investigator: Prof Stephen Partridge
Co Investigator: Dr Laura Leuzzi
Media Archivist: Adam Lockhart
Advisory Panel: Euan McArthur, Prof. Antonella Sbrilli, Prof. Marco Maria Gazzano, Dr Jon Blackwood, Stuart Cross