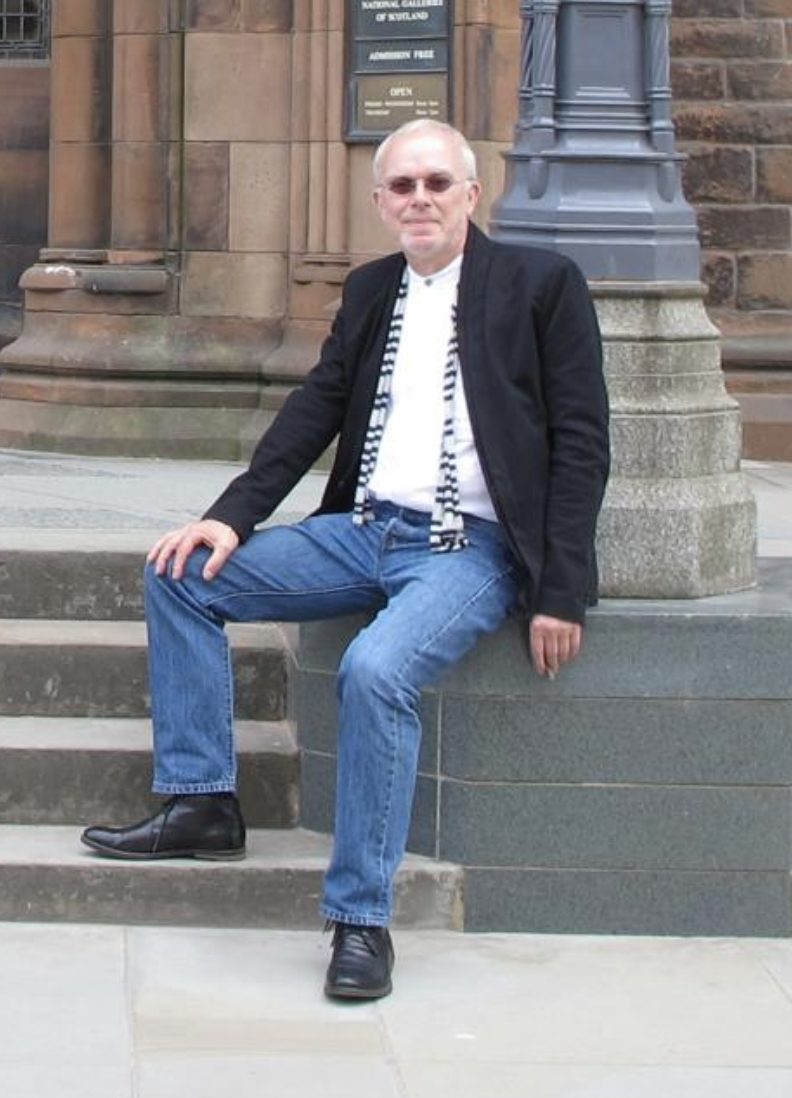 A founder member of LVA, Partridge was one of the first UK artists to make video artworks in the early 1970s. His early works played with and fore-grounded the formal language of video, the virtual space of the monitor relative to the exhibition space, the relationship between the viewer and the artwork, the art 'work' and context. Partridge established the Television Workshop, which offered facilities and support for artists' production, helping to produce over two hundred and fifty artworks, from 1984-2001." – J.Hatfield
Stephen Partridge is an academic, media artist and producer. He was in the "landmark" shows of the 1970s including the Video Show at the Serpentine in 1975, the Installation Show at the Tate gallery in 1976, The Paris Biennale in 1977 and the The Kitchen in New York in 1979.
During the eighties he exhibited widely and also became interested in works for broadcast television and was commissioned by Channel 4 television to produce 'Dialogue for Two Players' in 1984. With Jane Rigby, he formed Fields and Frames – an arts projects and television production company – which produced the innovative Television Interventions project for Channel 4 in 1990, with nineteen works by artists for television (including his own piece in the series – 'The Sounds of These Words'. He also co-produced a short series of student and artists work 'Not Necessarily' with BBC Scotland for BBC2 network television in 1991.
He has curated a number of influential video shows: Video Art 78 in Coventry; UK TV New York; National Review of Live Art 1988-90; 19:4:90 Television Interventions; and the touring tape packages 'Made in Scotland I,II', 'Semblances', 'Passages'. In 2015 he curated David HALL: SITUATIONS ENVISAGED: Richard Saltoun Gallery 17 July—14 August. His seminal artwork Monitor (1974) was acquired by TATE Britain in December 2014 and was on show as part of the permanent collection in A Walk through 500 years of British Art until 2017. He is an Honorary Associate of the National Review of Live Art.
He has worked with the artist and composer David Cunningham, whose sound-works and structural approach has enriched many of his works since 1974. Other major collaborations include the artist Elaine Shemilt on a series of works including the installations Chimera, Rush, Quattro Minuti di Mezzogiorno.
He lectured from 1975 in a number of art colleges, and established the School of Television & Imaging at Duncan of Jordanstone College of Art & Design (University of Dundee), where was Professor of Media Art (from 1998) and Dean of Research From 2001-2019).
He is the principal investigator on the research projects REWIND and REWINDItalia which were awarded successive grants in 2004, 2008 and 2011 from the AHRC, and in 2012 the Royal Society of Edinburgh. Currently is also co-investigator on the AHRC-funded European Womens' Video Art (EWVA) research project, led by his colleague Prof. Elaine Shemilt, and Richard Demarco | The Italian Connection, also funded by the AHRC.
He is currently Professor Emeritus in the Transtechnology Research Group, University of Plymouth
Interview of Stephen Partridge by Dr Jackie Hatfield

View the interview transcript here

Exhibitions:

Exhibitions (selected)

1975
The Video Show, Serpentine Gallery London;

Palazzo dei Diamanti Ferrara Italy
1976
Video; Towards defining an aesthetic, Third Eye Centre Glasgow;
The Video Show, Tate Gallery London; An Alternative use of the Medium, Washington; One Night Show, 2b Butlers Wharf, London
1977
10e Bienalle de Jeunes, Paris Palais de Tokyo Paris; British Video Art, Galleria Cavillino Venice Italy; Galleria Bonitirer Milan Italy; Video & Film Manifastatie Bonnefantenmuseum Maastricht Netherlands; One Night Show Ayton Basement Newcastle
1978
Two Man Show AIR Gallery London; Video Art 78, Herbert Art Gallery, Coventry
1979
International Video Symposium Kingston Ontario Canada; Video 79- The first decade Rome Italy; Brighton Festival; UK-TV, the Kitchen New York; One Man Show Kitchen New York
1980
Europe 1980 ILAC Centre des Echanges Lyons France; National Video Festival Bracknell Arts Centre
1981
Two Man Show Ikon Gallery Birmingham
1982
The Video ShowTate Gallery London
1984
British Canadian Video Exchange Toronto Canada; Lubljana SKUC Forum Yugoslavia, If then else…More on true or false -Cooper Gallery, DJCAD
1985
Fields and Frames, JaneRigby & Stephen Partridge, Cooper Gallery Dundee DJCA  Dundee
1986
Glasgow Events Space 1 Transmission Gallery; Signaux Poetiques, Banff Centre Alberta Canada; Interaction: Art-Music-Art, Camden Arts Centre; British Video 1976/86, ICA London; Breaking Boundaries: New British videotapes, ICA London
1987
Fukijoka Museum Japan; VideoArt Locarno Switzerland; Ave 87 Arnhem Netherlands; Sao Paolo Festival Sao Paulo; Re-scanning ICA Boston USA
1988
World-Wide Video Festival Kijkhuis The Hague Netherlands
1989
Video Positive Tate Gallery Liverpool
1990
National Video-wall Exhibition Diorama London; Third Eye Centre Glasgow, Seagate Gallery Dundee; Ikon Gallery Birmingham
1995
Video Positive TOY BOX CDROM Tate Gallery Liverpool
1996
Media Circus Crawford Gallery DJCA Dundee
1997
The Showroom London; Videoart Britanic, Cente d'Art Monica, Barcelona, Spain
1998
SSA Annual Exhibition RSA Galleries Edinburgh; Zone Festival Maidstone.
1999
One-person show Dundee Contemporary Arts Centrespace, Dundee and Cooper Gallery, DJCAD, Dundee; Dick Institute Paisley; Street Level Glasgow; 17th World-Wide Video Festival, Stedlijk Museum, Amsterdam, Netherlands
2000
Crawford Arts Centre St Andrews; Peacock Printmakers Aberdeen; European Media Art Festival Osnabruck, Germany; Demarco/70/2000 University of Kingston, Edinburgh City Art Gallery, Ruskin Museum Conniston; Oxford Brookes University
2001
National Review of Live Art the Arches, Glasgow
2003
Early British Video Works, Tate Britain, London; A Century of Artists' Film in Britain Tate Britain London; 20 years of the World Wide Video Festival VideoLisbon Portugal and Recontres Videos Art Plastique Herouville St Claire Caen France.
2004
Short Histories of Video Art John Hansard Gallery University of Southampton; Experiments in the Moving Image Old Lumiere Cinema London
2006
Captured, Video section of National Review of Live Art Tramway Glasgow Feb 2006; Strangescreen Audiovisual Festival of Experimental Video & Creative Documentary Thessaloniki Cinema Museum Greece
2007
Analogue Digital, Fieldgate Gallery, London, 24 November – 16 December . Rush, 2-channel installation, joint work with Elaine Shemilt, 2007
2008
Analogue Digital: MOCCA, Toronto, Canada. Art Gallery of Windsor (with Artcite); The Ottawa Art Gallery (with SAW Gallery); St James Cavalier Centre for Creativity, Valetta, Malta; Fieldgate Gallery, London; Arsenal Cinema , Freunde der Deutschen Kinemathek, Berlin, Germany; Centre for Contemporary Art, Ujazdowski Castle, Warsaw, Poland. Artists' Video in the 70s & 80s, doggerfisher gallery, Edinburgh.
2009.
Expanded Cinema: Activating The Space Of Reception, 17 – 19 April, Tate Modern. Running Time, Scottish National Gallery of Modern Art, Dean Gallery, 17 October 2009- November 21st 2009.
2010
The Rewind Archive, Stills Gallery, Edinburgh, Aug 5th- 20th October, 2010. National Review of Live Art, The Arches, Glasgow, March, 2010; Lost & Found, Street Level Gallery, Glasgow April 17- May 30, 2010
2011
Fuoriluogo 15 – Una Regressione Motivata, Limiti Inchiusi Arte Contemporanea, Campobasso, Molise, Italy. December 18 – January 23, 2011
2012
British Artists' Video in the 1970s and 1980s. Dundee Contemporary Arts, November 2012. Curated by Graham Domke. REWIND| British Artists' Video, Careof, DOCVA, Milan, Italy. 6 November- 20 December 2012.
2014
WAYWORDS OF SEEING, Exhibition at Frac île‑de‑France, le Plateau Paris, France, 12 June – 27 July 2014.
2015
Typemotion. Type as Image in Motion, curated by Bernd Scheffer, Christine Stenzer and Soenke Zehle. Themed exhibition includes 3  works by Partridge: Sentences (1988-1993), The Sounds of These Words (1989); Easy Piece (1974). ZKM | Museum of Contemporary Art, Karlsruhe, (16 Nov 2013 → 2 Mar 2014); National Gallery of Art, Vilnius (10 Oct 2014 → 9 Nov 2014); FACT, Liverpool, 13 November 2014 – 8 February 2015; National Taiwan Museum of Fine Arts (NTMoFA), (21 Mar 2015 → 31 May 2015). Welcome to the Future! the floppy cd-rom revolution, An exhibition demonstrating the short life of born-digital art. March 19 – April 26, 2015. iMAL, Brussels. Exhibiting the cd-rom This is a sentence. Partridge/Cunningham published by Film & Video Umbrella shown on a vintage computer.
2016
BP Walk through British Art – 500 Years of British Art, TATE Britain, Jan 2015- Jan 2016. Dall'oggi al domani. 24 ore nell'arte, MACRO, Museo d'Arte Contemporanea di Roma 2016
2017
CURRENT: Contemporary Art from Scotland, Shanghai Minsheng Art Museum, China, 17th December 2016 – 15th January 2017;
2021
Laboratory of Presentation Techniques, at Arton Foundation, Warsaw, March – April 2021. Modern Conversations, TATE St Ives, May 2021-

Videography:

Installations

1976
Triad, ICA, London
Installation No 1, 'Towards Defining An Aesthetic', Third Eye Centre, Glasgow
8 x 8 x 8, 'The Video Show', Tate
A Spatial Drawing; A condition of Space, 2b Butlers Wharf, London
1977
Delineations, Aylton Basement, Newcastle
A Coincidence of Space, Paris Biennale, Palais des Tokyo, Paris
1978
Dialogue for Four Players, AIR Gallery, London
Sketch for a square, 'Video Art 78', Herbert Read Gallery, Coventry
1979
Study in Blue, Ikon Gallery, Birmingham and Kitchen, New York
1981
Display-Displaced, Ikon Gallery, Birmingham and Kitchen, New York
1984
If then else…More on true or false -Cooper Gallery, DJCAD
1985
Scape, DJCA Gallery, Dundee
1986
Interrun, 'Events Space', Transmission Gallery, Glasgow
1989
Interrun, 'Video Positive', Tate Liverpool (Sound by Lei Cox)
1974-1996
Easy Piece (installation), School of Television & Imaging, DJCAD, Dundee; The Showroom, London, 1997, Cooper Gallery, DJCAD, Dundee, March 1999, Peacock Gallery, Aberdeen 2000
1997
Monitor (installation, The Showroom, London
1998
Chimera, (with Elaine Shemilt), SSA at the Royal Scottish Academy, Edinburgh, October 1998. (Subsequently shown at the opening of DCA, Centrespace, Dundee, March 1999; the Dick Institute July 1999, Peacock Gallery, Aberdeen 2000)
1999
…for one of your smiles, Cooper Gallery, DJCAD, Dundee, March 1999 and the Dick Institute, Kilmarnock, July 1999; Street Level, Glasgow October 1999, Peacock Gallery, Aberdeen 2000.
Intangible Bodies (joint work with Elaine Shemilt)
Cooper Gallery, DJCAD, Dundee, March 1999 ; the Dick Institute July 1999; Crawford Arts Centre, March-May 2000; Peacock Gallery, Aberdeen 2000.
2006
HiDeeHiDiddleLadyHiDeeHiDeeHiDoh, 2 screen installation, Captured NRLA, Tramway, Glasgow,

Videotapes

1974
Crosspoints
Easy Piece
Scrutiny
Grey Scale
Overload
1975
Untitled
Monitor 1
Interlace
1979
Episodes-Interposed
Black Skirt
1980
Interplay
1982
Soundtapes
1984
Dialogue for Two Players
One Thousand and One Boys Games
1985
Two Reelers
1986
Vide Voce (The Three's in the Four), joint work with Mary Phipps and  David Cunningham
1988
Sentences 1, 2 & 3
1989
The Sounds of These Words
1993
Monitor (version 2)
1995
Video Miniatures
1998
Chimera, joint work with Elaine Shemilt
1999
This Is A Sentence (cd-rom)

External Links:

Artist works:

Artist organisations:

Artist assets: