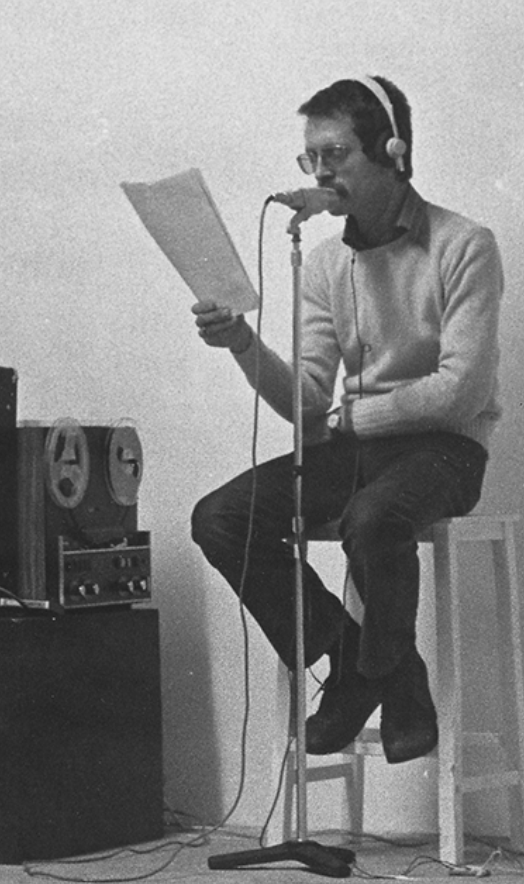 Born in Manchester in 1949, Stuart Marshall studied Fine Art at Hornsey and Newport colleges of Art and did an MA teaching fellowship in New Music Composition and Ethnomusicology with Alvin Lucier at Wesleyan University, USA.
Marshall was a founder member of London Video Arts in 1976, and was a committed advocate of British video art, as a practitioner, curator and theorist. He curated the first UK/Canadian Video Exchange in 1984 and his videos and writings were amongst the first to explore the relationship between video, television and the media. With later works such as Bright Eyes, he explored, and challenged, misrepresentations of homosexuality during the AIDS epidemic of the 1980s, at a time when lesbian and gay lifestyles and sexuality were under attack as a result of Clause 28 and the media-encouraged prejudice surrounding the spread of AIDS. Towards the end of his life, working with Maya Vision, Marshall made a number of Channel 4 commissioned documentaries concerning gay identity and he continued to be a passionate campaigner for gay rights.
Marshall was a dedicated teacher in a number of art schools throughout his career, including Chelsea School of Art, the Royal College of Art and Newcastle Polytechnic, where he made Pedagogue with Neil Bartlett and his students, a humorous riposte to Clause 28.
Stuart Marshall 1949–1993
ORBITUARY for Stuart Marshall published in the Independent on June 8, 1993 by Rebecca Dobbs:
Stuart Congreve Marshall, film director: born Manchester 7 May 1949; died 31 May 1993.
I first met Stuart Marshall in 1987 when he walked into my office to interview me as a potential producer. At the end of a three-hour conversation which ranged over politics, psychoanalysis, art, music and the price of hats, he declared himself ready to take me on – and how could I resist someone who had once written a performance piece for the chimes of 14 ice- cream vans?
The first film we made together was Desire – a study of sexuality in Germany 1910-1945 (1989), on the persecution of gay men by the Nazis. Filming in Flossenberg, a concentration camp where many gay men had been killed, I remember Marshall talking passionately about the need to reclaim a history which had been forcibly and violently suppressed.
His own history had taken him through avant-garde music, video, performance and installation art, teaching, writing, film-making and Aids activism. In each of these fields he built up a formidable reputation. Born in Manchester in 1949, he studied fine art at Hornsey and Newport Colleges of Art and did an MA, in new musical composition at Wesleyan University in the United States. Subsequently he taught at Newcastle Polytechnic, the Royal College of Art and Chelsea School of Art, bringing on many gifted pupils with his vision and enthusiasm. Through the 1970s he produced over 40 musical, video and theatre performances in the US, Europe and the UK.
Marshall was a founder member of London Video Arts, a member of the Film and Video Panel of the Arts Council and an assessor on the Committee for National Academic Awards. He published essays and articles on film and video and on sexual politics, while his artistic work can be seen in many galleries and institutions, including the Museum of the Moving Image in London and the Museum of Modern Art in New York.
Throughout the time I knew him, he lived with his partner Royston Edwards in their delightful and welcoming house in Hammersmith. Here I met Stuart's ex-wife Jane Harrison, who had been his girlfriend when they were both 13 and was still his best friend 30 years on.
After Desire, we collaborated on Comrades in Arms (1990), Over Our Dead Bodies (1991), Blueboys (1992) and A Bit of Scarlet (still to be completed) – all films which were in some way about the reclamation and exposition of gay and lesbian histories.
Stuart Marshall was implacably opposed to discrimination, censorship and bigotry. As an HIV/Aids activist, he delivered hard messages with wit and skill. Joining Positively Healthy in 1988 and becoming co-chair, he fought long and successfully against outright attack and sheer apathy. The film we were preparing at the time of his death was a personal plea for patient choice and the expansion of alternative medical options for people with AIDS.
Stuart had a gently wicked sense of humour and a gift for camp parody; he was never averse to disarming the pompous. He was a constant, entertaining and enlightening friend.
REWIND is greatful to Nicholas Collins for allowing us to use material from his website on the work of Stuart Marshal. See link below
Updated July 2022
Exhibitions:

SOLO EXHIBITIONS:

1970
Cambrian Theatre Company, Wales (commissioned sound track)

1971
Reading University, Reading, England (performance)

1973
Aerial Structures, Sunderland Arts Centre, Sunderland, England (sound installation)

1974
Lucy Milton Gallery, London, England (performance and videotapes)
Gulbenkian Studio Theatre, Newcastle-Upon Tyne, England (performance)

1975
Chapter Arts Centre, Cardiff, Wales (performance)
Wesleyan University, Middletown, Connecticut, USA (performance)
Amherst College, Massachusetts (performance)
State University of New York Albany, U.S.A (performance)

1976
Robert Self Gallery, Newcastle-Upon Tyne, England
Gulbenkian Studio Theatre, Newcastle-Upon Tyne, England (performance)
2B Butlers Wharf, London, England (performance)

1977
Robert Self Gallery, Newcastle-Upon Tyne, England (slide projection installation)

1978
The Kitchen, New York City, USA (two video installations and performance)
Herbert Gallery, Coventry, England (two video installations)
Memory Space, The AIR Gallery, London, England (video installation)
Leeds University Art Gallery, Leeds, England (slide projection installation)
I.C.A., London, England (performance)

1980
London Video Arts, The Acme Gallery, London, England (videotapes)

1981
Museum of Modern Art, New York City, USA (videotapes & lecture)
San Francisco Art Institute, California, USA (videotapes)

1982
The South West Arts Film Tour, venues throughout S.W. England (videotapes)
Cinema City, Norwich, England (videotapes)
The Kitchen, New York City, USA (videotapes & video installation)
Slow Dancer Film Co-op, Liverpool, England
Brighton Film and Video Workshop, Brighton, England
Ipswich Film Workshop, Ipswich

1983
Popular Culture in Britain Today, The New Museum, New York (panel discussion)

GROUP EXHIBITIONS:

1969
Art in Wales: The 20th Century, National Museum of Wales, Cardiff (sound installation)
Reardon Smith Theatre, Cardiff, Wales (performance)
Swansea University, Cardiff, Wales (performance)

1970
Newport Film Theatre, Newport, Wales (sound installation)
Portsmouth Town Hall, Portsmouth, England (performance)

1971
Spencer Church, New York, USA (performance)

1975
The Video Show, Serpentine Gallery, London, England (videotapes & performance)
America Haus, Berlin, West Germany (videotapes)
St. Marks on the Bowery, New York, USA (performance)

1976
Video: Towards Defining an Aesthetic, Third Eye Centre, Glasgow (videotapes & video installation)
The Video Show, Tate Gallery, London, England (video installation)
Filmmakers Co-op, London, England
Artists' Video, Washington, Tyne, and Wear (videotapes)
Orientation Studies, Tate Gallery, London, England (video installation)

1977
Cavallino Gallery, Venice, Italy (videotapes)
Bon a Tirer Gallery, Milan, Italy (videotapes)
Film and Video Manifestation, Bonnefantem Museum, Holland
Entr'axes Festival, University of Brussels, Belgium (performance)
Palais des Beaux Arts, Brussels, Belgium (performance)
Tenth Paris Biennale, Museum of Modern Art, Paris, France (video installation)
Artists' Video, Washington, England
Orientation Studies 2, Paris Biennale, France

1978
Fiery Romance, The Northern Arts Exhibition, Newcastle, England (video installation)
Video Art '78, Herbert Art Gallery, Coventry, England (video & video installation)
De Appel Gallery, Amsterdam, Holland (cablecasting of videotapes)

1979
London Video Arts, Acme Gallery, London, England (videotapes)
International Video Symposium, Kingston, Ontario, Canada (videotapes)
Ontario College of Art, Toronto, Canada
Nova Scotia College of Art, Halifax, Nova Scotia, Canada
Video '79, The First Decade, Rome, Italy (videotapes)
Brighton Festival, Brighton, England (video installation)
UK-TV, The Kitchen, New York City, USA (videotapes)
Artists' Video, Washington, England
Musi-Context Festival, London, England (performance)

1980
London Video Arts, Acme Gallery, London, England (videotapes)
Teatr Studio, Warsaw, Poland (videotapes)
De Appel Gallery, Amsterdam, Holland (videotapes)
Union of Polish Photographers, Warsaw, Poland (videotapes)
New '57 Gallery, Edinburgh, Scotland (videotapes)
Venice Biennale Festival of Contemporary Music, Venice, Italy
Sound Transgressions Festival, Lugano, Italy (videotapes)
Festival of Contemporary Music, Como, Italy (videotapes)
Video Festival, Bracknell Arts Centre, Berkshire, England (videotapes)

1981
Nova Scotia College of Art, Halifax, Nova Scotia, Canada (videotapes)
Prime Video, Montreal, Canada (videotapes)
Fuse Magazine, Toronto, Canada (videotapes)

1982
Museum of Modern Art, New York City, USA (videotapes)

1983
Ottawa International Festival of Video Art, Canada
Official British representative sponsored by the British Council Workshops and screenings at:
A.R.C. and Trinity Video, Toronto; Video Pool and Plug In Gallery, Winnipeg; Saw Gallery, Ottawa; Western Front and Video Inn, Vancouver; Television Interview, TX CBC; Radio Interview, TX CBC; Cable Interview, for Gaybelvision, Vancouver.
The Kitchen, New York City, USA (curated Recent British Video for British American Arts Association as part of Britain Salutes New York festival)
"Popular Culture in Britain Today"The New Museum, New York, USA (panel discussion)
Channel Four Television, London, England (commissioned script development on AIDS)

1984
Bright Eyes, TX Channel Four Television (80 min. drama documentary on aids)
Video '84, Montreal, Canada (video installation:A Journal of the Plague Year)
Radio Interview, TX CBC
Cross Currents, Royal College of Art, London, England (video installation)
Difference: On Representation and Sexuality, The New Museum of Contemporary Art, New York, USA

1985
Bright Eyes, Tate Gallery, London, England (video)
Homologie, Film Theatre Desmet, Amsterdam, Holland (Bright Eyes)
Prinz Eisenherz Buchladen, Berlin, West Germany (Bright Eyes)
V Tapes, International Gay Association Festival, Toronto, Canada (Bright Eyes)

1987
Homo Video, The New Museum of Contemporary Art, New York, USA (Bright Eyes)
The Kitchen, New York, USA (Bright Eyes)
International Gay and Lesbian Film Festival, Los Angeles, USA (Bright Eyes)
Documenta, Kassel, West Germany (BrightEyes)
11th Hong Kong International Film Festival, Hong Kong
San Francisco International Film Festival, San Francisco, USA (Bright Eyes)
Bright Eyes, TX Channel 25 Cable Television, San Francisco, USA

1988
Genlock, touring exhibition throughout England (commissioned videotape: Pedagogue)
Image et Nation, Diffusions Gaies et Lesbiennes du Quebec, Montreal, Quebec, Canada (Bright Eyes)
Cornell Cinema, Ithaca, New York State, USA (Bright Eyes)
Museum of Fine Arts Houston, Texas, USA (Bright Eyes)
Anti-British Day, Amsterdam, Netherlands (Pedagogue)
Chicago Lesbian and Gay Film Festival, Chicago, USA (Bright Eyes)
Bright Eyes, TX Angry Initiatives/Defiant Strategies, Deep Dish TV, USA
San Francisco International Lesbian and Gay Film Festival, San Francisco, USA (Bright Eyes)
A Queer Feeling When I Look At You, Third Lesbian and Gay Film Festival, National Film Theatre, London, England (Pedagogue)
Hi Beam, Tate Gallery, London, England (Pedagogue)
Pedagogue, TX Channel 25 Cable Television, San Francisco, USA

1989
Satellite Video Exchange, Vancouver, Canada (artist in residence for one month)
Desire, TX Channel Four Television, London, England
AIDS, The Artists' Response, Columbus, Ohio, USA (conference panelist and video: Bright Eyes)
V Tapes, Toronto, Canada (Desire)
South East Arts Video Tour, England (Pedagogue)
5th International Conference on AIDS, Montreal, Quebec, Canada (Bright Eyes)
The New Film Festival, New York, USA (Desire shown as opening night film)
San Francisco International Lesbian and Gay Film Festival, San Francisco, USA (Desire)
Los Angeles International Gay and Lesbian Film and Video Festival, Directors Guild, Los Angeles, California, USA (Desire & Pedagogue)
Chicago Lesbian and Gay Film Festival, Chicago, USA (Desire)
Image Et Nation, Diffusions Gaies et Lesbiennes du Quebec, Montreal, Canada (Desire)
Fourth Lesbian and Gay Film Festival, National Film Theatre, London, England (Desire)
Pittsburgh Filmmakers, Pittsburgh, USA (Desire)
Theatre Desmet, Amsterdam, Holland (Desire)
How Do I Look?, Anthology Film Archives, New York City, USA (Bright Eyes screening and conference speaker)

1990
International Film Festival, Berlin, West Germany (Desire)
Euclid Cinema, Toronto, Canada (Desire)
Comrades in Arms, London Filmmakers Co-op, London, England
Comrades in Arms, TX Channel Four Television, London
Anthology Film Archives, New York City, New York, USA (Desire)
Metropolis Cinema, Hamburg, West Germany (Desire)
San Francisco International Lesbian and Gay Film Festival, USA (Comrades in Arms)
Images Festival of Independent Film and Video, Toronto, Canada (Pedagogue)
Ritzy Cinema, London, England (Desire and Comrades in Arms)
The New Film Festival, New York City, USA (Comrades in Arms)
San Francisco International Lesbian and Gay Film Festival, San Francisco, USA (Comrades in Arms)
Los Angeles International Gay and Lesbian Film and Video Festival, directors guild, Los Angeles, California, USA (Comrades in Arms)
Melbourne Film Festival, Melbourne, Australia (Comrades in Arms)
Sao Paulo International Film Festival, Sao Paulo, Brazil (Desire)
Gay and Lesbian Film Festival, Copenhagen, Denmark (Desire)
Margaret Mead Film Festival, New York City, New York, USA (Comrades in Arms)
Museum of Modern Art, Oxford, England (video installation: A Journal of the Plague Year)
Film in the Cities, Minneapolis, USA (Desire)
Pittsburgh Filmmakers, Pittsburgh, USA (Comrades in Arms)
Image Et Nation, Diffusions Gaies et Lesbiennes du Quebec, Montreal, Quebec, Canada (Comrades in Arms)
Festival Dei Popoli, Florence, Italy (Comrades in Arms)

1991
Over Our Dead Bodies TX Channel Four Television

External Links:

Artist works:

Artist assets:

Quotes:

Read the online biographies or obituaries and they emphasise the latter stages of his career. This seems as it should be yet because of my personal contact with him and my predilections I consider him to be one of the unsung pioneers of sound art in the UK. In Musics 9 (1976) I reviewed a video screening of Stuart's work at the London Filmmakers Coop; even from my brief descriptions it is apparent that video offered the technical means for him to explore interdependence of hearing and seeing: a bottle smashing in silence, the interior of a mouth and its ambient roar. In 1979, during the Music/Context Festival of Environmental Music at the London Musicians Collective, Stuart performed a solo version of Idiophonics from within a canoe paddled by Paul Burwell. I photographed the event as they glided off over the water, Stuart with an aerosol klaxon in hand. That photograph is not available to me at the moment but the memory is fresh enough, sound blasts ricocheting off the high walls lining Camden Canal. By that time, music was out of its box, sound thinking no longer "fairly unique". David Toop- 2013 https://davidtoopblog.com/2013/07/10/sound-thinking-stuart-marshalls-idiophonics/