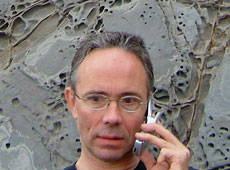 David Critchley studied Fine Art at Newcastle Upon-Tyne Polytechnic and Environmental Media at the Royal College of Art. Since 1975 he has produced single and multi-screen videos and installations which have been exhibited in the UK, USA, Canada and across Europe.
In the late 1970's he was one of the artists running the 2B Butler's Wharf Performance Art Space and a founding member of London Video Arts (LVA) which is now the LUX Centre for Film, Video and Digital Arts, and was its manager between 1981-86 Since then and up to the present he has worked in art education. His video art work is in distribution with LUX.
After LVA he formed and ran the video production company Greenstreet Ltd until 1991. His work combines video, photography and installations such as 'Cradle to Grave', a permanent exhibit in the Wellcome Trust Gallery at the British Museum made in collaboration with Pharmacopoeia-art.
"David Critchley was a major energy during the '70s. A founder member of LVA, Critchley was also instigator of artists' installation and media performances with Alison Winckle at 2B Butlers Wharf. He used himself and his body, as the central existential component of his video artworks." J.Hatfield
updated July 2022
Video of David Critchley

View the interview transcript here

Exhibitions:

1974
The Dixieland Swingtime Jazz Band, Spectro Arts Centre, Newcastle Upon-Tyne Polytechnic Union, The Bridge Tavern, The Gulbenkian Studio Theatre, Newcastle Upon-Tyne
Three Nights, Performance art at the Gulbenkian Studio Theatre, Newcastle Upon-Tyne.

1975
Yet Another Triangle, The Video Show, The Serpentine Gallery, London

1976
2B Group Show, 2B Butler's Wharf, London
SELF-OTHER, Robert Self Gallery, Newcastle Upon-Tyne
A Twenty Four Minute Retrospective in Two Parts, 2B Butler's Wharf, London
Five Days, Battersea Arts Centre, London
Acme Gallery, London
Video and Film Manifestatie, Bonnefantenmuseum, Maastricht, Netherlands

1977
This and That, The Basement, Newcastle Upon-Tyne
Up to Date, Faroe Road Studios, London
Artists Video, Biddick Farm Arts Centre, Washington, Tyne and Wear
Institute of Contemporary Arts, London

1978
The Tortoise and the Hare, Herbert Art Gallery, Coventry,
Birmingham Film Makers Co-op,
Slade School of Art, London
Commercial Road –
RCA, Royal College of Art, London
Montpellier Abstract Film Festival, Montpellier, France
Whitechapel Gallery, London
Bersschouwberg Cultural Centre, Brussels
London College of Printing

1979
Pieces I Never Did, The Acme Gallery, London
Video Roma, Rome, Italy
European Video, die Kunstlerhaus, Stuttgart, Germany
British Video, The Kitchen, New York
Luton Arts Centre
Maidstone, Brighton and Coventry Schools of Art

1980
Etchings and Lithographs, War Memorial Art Gallery, Stockport
Film, Video and Slide Tapes, The London Film Makers Co-op
Me-You-Them, The Basement, Newcastle Upon-Tyne
British Video Theatre Studio Warsaw, Poland
Bracknell Video Festival, South Hill Park Arts Centre, Bracknell
The New 57 Gallery, Edinburgh
The Gallery Cavallino, Venice
De Appel Gallery, Amsterdam
ILAC Lyon France
Dzeikanka, Warsaw
The Third Eye Centre, Glasgow
Coventry, Sheffield, Wolverhampton and Reading Schools of Art

1981
The American Record, London Film Maker's Co-op
The London Musicians Collective
The Tate Gallery, London
Pink Noise Studios Oakland California
And/Or Gallery, Seattle
PRIM Video, Montreal
Spacex Gallery Exeter
SW Arts Film Tour
Ontario School of Art, Toronto, Canada
Vestlandets Kunstakademie, Bergen, Norway
Academie of Art, Geneva, Switzerland
The London Musicians Collective, London
The Midland Group Gallery, Nottingham
Arnolfini Gallery, Bristol
Camberwell School of Art

1982
Offspring, Multi screen video, The Air Gallery, London
LFMC Summer Show
Unge Kunsgeres Samfund, Oslo, Norway
LVA at the AIR Gallery, London
London Film Makers Co-op Summer Show, London
Bedlam Theatre, Edinburgh Festival
Arnolfini Gallery, Bristol
Ipswich Film Co-op
Norwich Film Co-op
Luton Arts Centre
Sheffield, Maidstone, Hull, Wolverhampton and Coventry Schools of Art
Central School of Art, London
British Council Touring Exhibition the Far East and South America

1983
Spectro Gallery, Newcastle
South Hill Park Arts Centre, Bracknell
33 Video, Luton Arts Centre
The Brighton Film and Video Workshop
Tour of Australian venues curated by John Dovey

1987
Gen Lock, UK Touring Exhibition, curated by London Video Arts

1996
On Mouse Up, Computer Art Exhibition at Kingsway College, London
Turning Worlds computer/video art piece at the PaNdAeMoNiUm, Institute of Contemporary Arts, London

1999
www.critchley.net (website – no longer online)

2000
Pharmacopoeia, Creating Sparks Exhibition, Royal College of Art, London
Recoil, Sexwise exhibition at Nottingham Castle Museum Art Gallery, Nottingham
www.pharmacopoeia-art.net (website online)

2001
Static Acceleration, The Anthony Wilkinson Gallery, London
Pharmacopoeia, Bristol Science Museum, Explore @t Bristol

2002
Rubbish, Outside My Door, Online exhibition at http://helios.hud.ac.uk:8888/c0164797
Even Bleeker Street 20.02.2002 Online exhibition at http://kunst.no/20022002
Pharmacopoeia, The Harley Gallery Nottinghamshire, Shipley Art Gallery, Gateshead, Hartlepool Art Gallery, Northumberland

2003
Pharmacopoeia, Kirkaldy Museum, Fife & Paisley Museum, Renfrewshire
Trialogue, Tate Britain, A Century of British Artist's Film and Video
Cradle to Grave, Permanent Art Installation, The British Museum, Welcome Trust Gallery

2004
Pharmacopoeia, 'Lies, Lust Art and Fashion' Podewil, Berlin
Experiments in Moving Image, The Old Lumiere Cinema, London
Pieces I Never Did, John Hansard Gallery, University of Southampton
Recoil – Pharmacopoeia, Gimpel Fils Gallery, London
The Pits, Video installation, Museum of Contemporary Art, Denver, USA
John Hansard Gallery,University of Southampton

2005
The Rio Cinema, London for The Centre of Attention
Silent Shorts, Dusseldorf (Static Acceleration re-edited to 8mins and silent!)

Videography:

1973
Changing

1975
Yet Another Triangle (with Keith Frake and Stuart Marshall)

1976
Zeno Reaches Zero
Static Acceleration

1977
Memory 1&2
Instruction, Limitation
Trialogue
3D

1978
The Tortoise and the Hare

1979
Pieces I Never Did
The Sands of Time

1981
Dave in America

1983
No Record

1986
Ashburnham Centenary video

1987
Creativity in RE, for Seeds Ltd
Homework

1988
The Honoured Guest, for Seeds Ltd
Baptism, for Seeds Ltd

1989
Window on Home Mission, for the Methodist Church, UK

1990
Caring With Justice, for the Methodist Church, UK
Evangelism in Action, for the Methodist Church, UK
Chaplaincy, for the Methodist Church, UK
Do Burgers Grow on Trees?, for Saltmine Theatre

1996
Turning Worlds (CD)

2000
Recoil
The Pits (Installation)

External Links:

Artist works:

Artist assets:

Quotes:

David Critchley The work of David Critchley occupies a very particular place in the hearts and minds of those who grow up with the early phase of British video art at the end of the 1970s and beginning of the 1980s. In many ways, the first sight of this energetic and telegenic man, playing conceptual games with the camera in his performance and video works reminded many of us that video art could be both smart and edgy. Revisiting these pieces, most of which were created in the infancy of the artform, it's perhaps a surprise that so many of them continue to resonate, but there does remain a very strong sense of new ideas evolving in front of the camera as many video-specific concepts of creation, recording and replaying are proclaimed and expounded. It's also hard to divorce the man from the moment as Critchley's career tracks closely the emergence of the medium of video art in the UK. Firstly as one of those who had early use of the technology while emerging through art school, but also through being closely involved in the early testing of models of distribution and exhibition that led to the creation of organisations such as London Video Arts. Critchley graduated from the Fine Art course at Newcastle Polytechnic in 1975 where he was one of the first generation of video artists to develop their skills within the evolving ethos of media arts. At that time the course was led by the influential (and late lamented) Stuart Marshall and was positioned in a context which saw other artists based in the north-east of England beginning to explore ideas in this new medium and develop some of the first group shows of work. After finishing at Newcastle Critchley left for London to take up a place on the three-year MA course at the Royal College of Art and arrived fresh from already having just taken part in a landmark exhibition. This show - 'The Video Show' - took place at the Serpentine Gallery in London in May 1975, and is now widely credited with being the early marker for video art in the UK. It was a wide ranging show organised by a small group including Peter Bloch, Sue Grayson, David Hall, Stuart Hood and Clive Scollay. The show featured installations, performances and single screen works by a range of British artists including Roger Barnard, David Hall, Tamara Krikorian, Brian Hoey, Steve Partridge, Stuart Marshall, Alex Meigh, Liz Rhodes, Reindeer Werk, Steve James, Mike Leggett, Peter Livingstone, Tony Sinden and David Critchley. It was out of this group that many of the threads of the subsequent development of British video art emerged. Clive Gillman