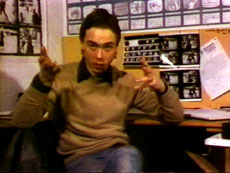 Contributor(s):
At various points - camerawork, studio or performance assistance, advice and support from: Alison Winckle, Keith Frake, George Saxon, Ian Bourne, Michael Fitzsimmons, David Trayner, Laura Knight, Helen Chadwick, Susie Freeman, Val Jones
This work is part of the rewind archive.

Duration: 35mins 17secs (Single Screen Version)31mins 3secs (3 Screen Version)

Year: 1978/79 three screen version 1979 re-worked as a single screen version2007 single screen re-edited to 3 screen2007 3 screen composite version

Original formats:

U-matic Lo Band

Media types:

Video

Type of work:

3 Screen Video presentation + Single Screen Videotape

Single Screen

Videotape

Funding source: Self / State

First exhibited: London Video Arts at The Acme Gallery, London (Feb '79)

Technical details: Mainly shot in and around the RCA - Edited at Fantasy Factory

By 1979 when Pieces I Never Did was made, colour cameras, U-matic cassettes and a wider range of colour monitors were available. Consequently I was able to visit many performance, film, video, installation and sculpture ideas in the work.

Still from Pieces I never did

Talking to camera, I described ideas that had never got beyond a note in a sketchbook. Paradoxically, I was able to resurrect on video these items of personal performance that had been edged out by the structuralism of early video art, such as shouting the words "Shut Up!" until I lost my voice, having objects thrown at me until I changed colour, and proposing to end the piece by blowing myself up. I intended the piece to be colourful and action packed – far removed from the forty-minute single-take of 'Changing' in 1973.

Pieces I Never Did was probably the last piece of work I made which tried to reconcile some of the material differences in the various media and methods I was using, and at the same time presented a self critique and by inference a critique of other video art work going on at that time. The work was intended to be screened on three monitors, and the thirty or so sections of all three tapes were edited to run in analogue sync for the thirty-five minute duration. This differed by fractions of a second from one screening to another depending on how the pause and start buttons were pressed, in turn resulting in a very different sound environment for the visuals to work in.In various combinations this work put together about eighteen propositions for art works covering performance, film, video, installation and sculpture.

The complexity of the video recording and editing in the making of this piece went far beyond anything I had done before, yet was not the primary focus of the work. It is more about the reading of each distinct piece as realised on video in one minute sections against the justification for making them, or even thinking of them in the first place. It is about why we make art at all. D.C.

FOOTNOTE 1 Pieces I Never Did was first screened as an installation of a work in progress in a London Video Arts show at the Acme Gallery, Covent Garden (February 1979) Ian Bourn showed Lenny's Documentary at the same event, and Helen Chadwick selected both pieces for the 1979 Hayward Annual which was curated by several artists. Kevin Atherton had been selected by another artist to show video, but when we saw the arrangements for screening the video component of the exhibition – a small screened off area with a thinly spread programme – Kevin and I objected and asked the Arts Council's representative for equal billing with painting and sculpture in the form of a continuous display of each video piece. This was seen to be too difficult technically, so Kevin and I withdrew our pieces from that years Hayward Annual.  – DC

Quotes:

"Critchley's 'Pieces I Never Did' (1979), another conceptual dig at conceptualism, includes Critchley describing a series of potential conceptual works to the camera, his delivery being periodically interrupted by one such work in which he shouts 'Shut Up' to the camera (and himself) at maximum volume, until his voice gives out." David Curtis, A History of Artists' Film and Video in Britain. British Film Institute, 2007.

"David Critchley's Pieces I Never Did (1979) also explores issues raised through live performance, chronicling a series of short works he had planned but never previously got around to making. Critchley (1953-, UK) addresses his audience directly, explaining and then restaging the works especially for the camera. Critchley made a number of significant video works during the mid- to late 1970s drawing on his background in live performance to develop a series of single screen video works that explored the relationship between the video camera/recorder and the performer and performance and recording spaces, including Static Acceleration (1976) and Zeno Meets Zero (1975)." Chris Meigh-Andrews, A History of Video Art, The Development of Form and Function. Berg, 2006.