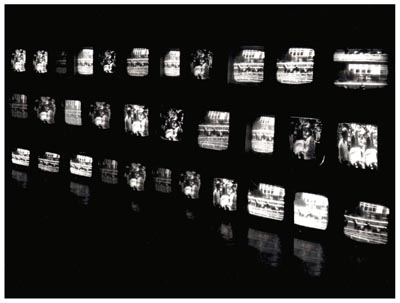 Year: 1972

Media types:

Video

Type of work:

Installation/Performance

Funding source: Gallery House, LondonArts Council

First exhibited: A Survey of the Avant-Garde in Britain, Gallery House, Goethe Institute, London in 1972

Technical details: 60 Television Screens - colour and sound

'The installation comprises 60 old TV receivers. Some operate normally, some distort, 'flash', or show a picture only intermittently, others operate sound only..
Mounted on building scaffold around a room they are tuned to various TV channels with the sound volume very high. The atmosphere is one of Media overdose and fruitless activity as TV repair men (in white coats) constantly attend the sets attempting to correct the faults…' David Hall, 1972
This was the first multi-screen video/TV installation to be seen in a UK gallery.