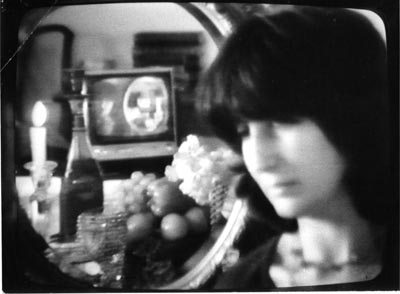 Tamara Krikorian 1944 – 2009
Tamara was a leading light in the visual arts world of Wales. Tamara was best known for her championing of artists' practice whilst director of, first the Welsh Sculpture Trust and then Cywaith Cymru . Artworks Wales, the national organisation for public art in Wales. She was instrumental in the development of the careers of some of Wales's most exciting and interesting artists, offering them the support to take risks and multiple platforms and fora to show their work that went far beyond the traditional model of a public art agency.
Trained as a musician, Tamara was a pioneer in the use of video as a means to make art, and is mentioned in the same breath as Yoko Ono, Derek Jarman and Sally Potter amongst many others, who created a context for contemporary artists such as Steve McQueen, Douglas Gordon and Gillian Wearing. The recognition of her seminal influence has only recently been truly acknowledged. Her campaigning led to this art form being legitimised, in the latter part of the 1970s.
Whilst living in Scotland, from the mid 60s to the late 70s, she met her partner, the artist Ivor Davies. She taught in Maidstone and Newcastle and co-founded London Video Arts, before settling in Wales, where her commitment to allowing artists to have a voice made her much beloved by those who worked with her.
Tamara Krikorian was born in 1944. She studied music and began making video in 1973 in Scotland where her campaigning helped establish the artform through a series of influential exhibitions. A founder of the artist led distribution agency London Video Arts in 1976, she was also an influential teacher at Maidstone and Newcastle. She lives in Wales, where she runs Art Work Wales. Krikorian was an influential artist during the 70's and one of the first female artists in the UK to work with video. She made a number of key works in particular 'Vanitas', and 'Breeze'. Krikorian also instigated collaborative shows of artists work; video conferences and various art forums, and importantly published a number of texts.
A tribute to Tamara Krikorian by the Arts Council of Wales.
"Tamara Krikorian was a founding member of LVA, and instigated collaborative shows of artists' work including the first exhibition of video in Scotland, 'Video Towards Defining an Aesthetic', at the Third Eye, Glasgow in 1976. She also organised conferences and art forums, and wrote a number of key texts during the early period. Krikorian's work was complex in its layering of meanings, and lyrical, often exploring the blurred edges between representation and the real; the static and the moving, and her ambient electronic installations explored technological landscapes as well as the recorded images of landscape."
Jackie Hatfield
ORBITUARY by Michael Tooby
THE GUARDIAN Thu 6 Aug 2009
Tamara Krikorian, who has died aged 65 of pneumonia after a period of ill-health, was a pioneering video artist who went on to become a distinguished curator of public art in Wales. To this latter role, she brought the complex insights of the artist and awareness of current experimental work.
Born in Dorset to an Armenian family, she was educated at St Dominic's convent, Harrow, north-west London, and the Lycée Français, Kensington. She also studied music privately before becoming stage manager for a small opera company.
In 1966 Krikorian moved to Edinburgh, and the following year met the artist Ivor Davies. They remained partners for the rest of her life. He taught art history at Edinburgh University and was part of the loose international community of artists experimenting with performance, text and temporary presentations. Her own interest came to lie in the arena that became known as video art, practised by a network of artists across the UK.
In 1972 she embarked on updating the Scottish Arts Council's artist archive. Encouraged by Bill Buchanan, the council's head of visual arts, she began to use the new technology of portable black-and-white videotape to record interviews with artists and saw a way of converting techniques for documentation into a vehicle of personal expression.
Krikorian's work Breeze was included in one of the first surveys of video in Britain, at the Serpentine gallery, London, in 1975. The following year she was a central figure in Video Towards Defining an Aesthetic, at the new Third Eye centre, Glasgow – the first public video art project in Scotland. Meeting artists such as David Hall and Stuart Marshall, she built relationships through teaching at Maidstone College of Art, Kent, and Newcastle Polytechnic. She co-founded London Video Arts in 1976, an organisation that defined the terms for video in the UK.
Her own work referenced art history, and often embraced imagery such as sky and water to exploit the potential of the black-and-white screen. She was at the forefront of "installations", placing video monitors in architectural space. An Ephemeral Art (1979) comprised a series of screens showing real-time video juxtaposed with an empty monitor in which butterfly pupae hatched. The Heart of the Illusion (1981) used mirrors and screens set in false walls.
Though Krikorian did not take a feminist stance, she was part of a generation of women artists confident about self-representation through new media. Her best-known work was perhaps Vanitas (1977-79), which used self-portraiture alongside a real-time still life, renewing the irony of a timeless nature morte.
In 1981 she and Davies moved to south Wales, and she was appointed director of the Welsh Sculpture Trust in 1984. She led it from its original role of commissioning and siting sculpture to being a broad agency for artists' work outside the gallery. It adopted the title Cywaith Cymru/Artworks Wales in 1990.
For 25 years she led an extraordinary range of projects. Some were land-marks around Wales, while others encouraged artists to make subtle public interventions. She recognised the value of ephemeral practice, particularly performance. As a result, public art in Wales has come to include not only the quirky suite of sculptures in the Cardiff station approach and landmarks for the Carmarthenshire and Gwynedd coastlines, but also performances and temporary installations at festivals including the National Eisteddfod.
Krikorian left Cywaith Cymru in 2005, reconnecting with video practice. Time Revealing Truth, her response to the 1982 Sabra and Shatila massacres in Beirut, was part of Tate Modern's recent Expanded Cinema.
The generosity of approach and breadth of outlook she displayed through reflection, writing, research and debate made her an exemplary "critical friend" for a huge number of artists, curators and academics. She is survived by Davies.
Tamara Seta Krikorian, video artist and public art curator, born 5 July 1944. Died 11 July 2009
updated June 2022
Interview of Tamara Krikorian

View the interview transcript here

Exhibitions:

1975
Scottish Arts Council, Charlotte Square Gallery, Edinburgh.
Serpentine Gallery, London, 'The Video Show'
Tate Gallery, London, 'The Video Show'

1976
Third Eye Gallery, Glasgow, 'Video Towards Defining an Aesthetic'
"Artists Video 1976′, Biddick Farm Arts Centre, Washington, Tyne & Wear

1977
"Artists Video 1977′, Biddick Farm Arts Centre, Washington, Tyne & Wear
Galeria Cavallino, Venice 'British Artists Video'
Bon a Tirer Gallery, Milan
Bonnenfanten Museum, Maastricht, Holland, 'International Video Manifestation'
Museum of Modern Art, Paris, 'Tenth Paris Biennale'
Brighton Open Studios

1978
Herbert Art Gallery & Museum, Coventry,
'Video Art 78' The Kitchen, New York 'Video Tape by British Artists'

1979
Third Eye Centre, Glasgow, 'An Ephemeral Art'.
Scottish Arts Council, Fruitmarket Gallery, Edinburgh, 'Eye to Eye' – video installations.
Acme Gallery, London
The First Decade, Rome, 'Video 79'
International Video Symposium, Kingston, Canada
Stuttgart, Kunstlerhaus
Brighton Festival

1980
ACE, Video Artists on Tour
Teatr Studeo, Warsaw
'De Appel', Amsterdam
Lyons, France
South Park Arts Centre, Bracknell

1981
Ikon Gallery, Birmingham, 'The Heart of the Illusion – video installations.
Arnolfini Arts Centre, Bristol
'Film and Video' The Tate Gallery, London – 'Single Screen'

1982
Air Gallery, London, 'The Heart of the Illusion' – video installations.
'British Council Tour of Independent Film and Video', Japan Midland Group, Nottingham, Video Selection of Sense and Sensibility

1983
Air Gallery, 'Video Installation Show'
B2 Gallery, London, 'Landscape in Film and Video'
'Frauen Kultur des Uferlose Weg', Cologne
'Video Art: A History – Documentation Exhibition', Museum of Modern Art, New York
'Angels of Fire', Poetry Festival, Cockpit Theatre, London
Festival Internationale Studio Visual d'Europe, Bergamo, Itaty

1980-85
The New Pluralism/British Film and Video

1985
The Tate Gallery, London

1986
'Ten Years of British Video Art', Channel 6, ICA

1977-87
The Elusive Sign, 'British Avant Garde Filme and Video'

1987-90
British Council Tour. First shown at the Tate Gallery

1988
'Genlock' a travelling Video exhibition presented by London Video Arts and Interim Arts
The Museum of Moving Image

1990
'Signs of the Times', Museum of Modern Art, Oxford

1991
'Video Positive', The Tate Gallery/Bluecoat Gallery, Liverpool

1999
Sweetie, Female Identity in British Video. The British School in Rome

2006
Rewind: The Formative years, Artists' Video in the 70s and 80s, VRC, Dundee Contemporary Arts
Analogue: Pioneering Video from the UK, Canada and Poland, Tate Britain and Tour

Videography:

1975 Breeze
1976 Disintegrating forms
1976-77 Interruptions
1977 In the Minds Eye
1977 Unassembled Information
1977 Vanitas
1977 Eyebath
1979 Tableau
1978-79 Vanitas (Or an Illusion of Reality)
1979 An Ephemeral Art
1980 Heart of the Illusion
1982 Time Revealing Truth
1983 The Question Is… Is this Art? Is this Entertainment?
1984 Extracts from the Work

Artist works:

Artist assets:

Quotes:

"Video Artist Tamara Krikorian, herself part of the founding modernist LVA group in London, identified and summarised her own involvement with the emergence of this tendency in a catalogue essay published in 1979: 'My own interest in video, and indeed in television, stems form a formalist position, a formal analysis/decoding/construction of the medium, but it's not posible to consider television without taking into account its structure, not just in terms of technology but also in terms of politics. This led me to realise that the reference points in working with any medium must come not only from the medium itself, following the modernist approach of 'pure art', but from relationships between types of work, painting and sculpture and video etc. The reference must also come from the artist's own experince as mediator between what has gone before and the raw material and the ideal, constantly restating and confronting the spectator with a discussion between the old and the new". Tamara Krikorian (1979) 'Some notes on an Ephemeral Art', Exhibition Catalogue, Third Eye Centre, Glasgow, Quoted in Marshall (1986), p.17. Chris Meigh-Andrews, A History of Video Art. Berg, 2006.