24th November 2019
Join pioneering video artists on the BBC as part of the programme 'Kill Your TV: Jim Moir's Weird World Of Video Art'.
Jim Moir (aka Vic Reeves) explores Video Art, revealing how different generations hacked the tools of television to pioneer new ways of creating art that can be beautiful, bewildering and wildly experimental.
Jim argues that underpinning much of this work is an urge to question our modern (screen-based) world: "When artists get hold of cameras, things get interesting."
With contributions from leading British artists such as Isaac Julien, Elaine Shemilt and Rachel Maclean, Jim shows how the arrival of the portable video cameras in the 1960s allowed artists to make work that set out to take on the power of corporate media. With the arrival of video art in the UK in the 1970s, British artists discovered that the instant playback of the video camera gave them a level of control not possible with film, and led to a creative explosion, from works of cosmic abstraction to feminist visions and Dadaist TV pranks.
Jim looks at the tradition of performance art, and sees how artists used the latest developments – from home video to Artificial Intelligence – in their work. And he reveals how, with the arrival of the epic video installations of the 90s and early millennium, this outsider art form became part of the art establishment, as well as a purpose built art form for our screen-obsessed world.
Jim visited the REWIND Media Preservation lab and discussed the history of video art with Adam Lockhart.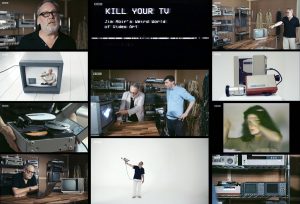 Kill Your TV: Jim Moir's Weird World Of Video Art is an Academy 7 production for the BBC. It is directed and produced by Sebastian Barfield, and the Executive Producer is Lynn Barlow. The film was commissioned by Emma Cahusac for BBC Arts and BBC Four.