Videokalos Image Processor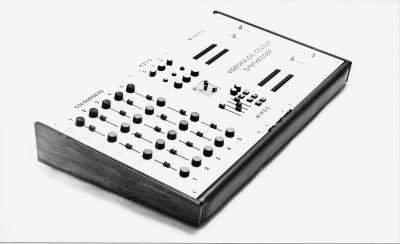 Year: 1975-1980

Funding source: Self and BFI

Article in 'Educational Broadcasting International', 1980, p. 122. pdf here.

---

Images of a prototype and production Videokalos Synthesiser. pdf here.

---

Handwritten description of the functions of the Videokalos. pdf here.

---

"Peter Donebauer (b.1947) had the advantage of having an early colour TV system to experiment with. Entering (1974) was one of a series of works he made during his residency at the Royal College of Art, using the colour TV studio donated by ATV. Commissioned by Mark Kidel for BBC2's art programme Second House, its mandala-like imagery and synthetic sound were performed 'live' by Donebauer and composer Simon Desorgher, and recorded in real time. Later Donebauer and engineer Richard Monkhouse developed the Videokalos synthesiser, as an image-sound performance instrument that allowed them to work closely with musicians in 'live' largely improvised performances."

David Curtis, A History of Artists' Film and Video in Britain. British Film Institute, 2007.