The Situation Envisaged II (Air Gallery London)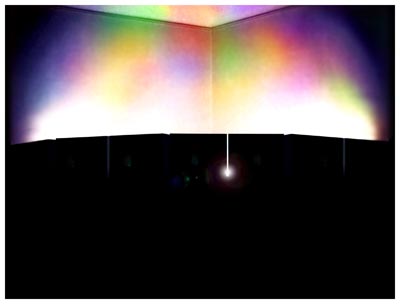 Year: 1979

Media types:

Video

Type of work:

Multi screen Video Installation

Funding source: Video Art78, Arts Council of GB,

First exhibited: Video Art78, Herbert Art Gallery, Coventry

'Eight domestic TV receivers are placed side by side at eye level on a wall-to-wall support in a quarter-circle across the corner of a room. Each is facing into the enclosed space and away from the viewer, and each is tuned to a different TV channel from the next. The viewer hears a cacophony of sound, and sees only an ever-changing projected glow beyond and above the line of TV sets. On approaching the installation, the screen of a video monitor is glimpsed through a small gap between each alternate set. It is playing a videotape, the content of which is difficult to decipher since the gap restricts the visual field to a narrow vertical section of the screen. The four possible viewpoints each offer a different segment – suggesting the assembly of coherent information only as the viewer moves from viewpoint to viewpoint. In doing so the tape time continuum is broken – expectations of a narrative progression are both implied and rejected – sometimes phasing by coincidence with the movement of the viewer, sometimes not. Fragments seen are of private ritual… The work confronts issues of power and the individual; the public and the private; the viewer and the viewed…' – David Hall, 1978.