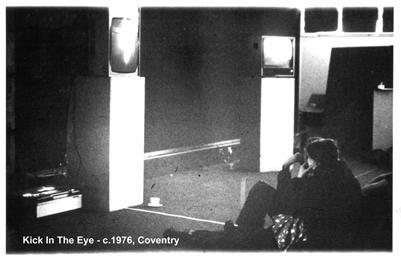 Duration: Continuous

Year: 1978

Media types:

Video

Type of work:

Three monitor installation with switching device

Funding source: Self Funded

First exhibited: The White Room at the Polytechnic 1978 and then a few months later at Coventry School of Art, Media Centre, 'Events Space 3'.

Technical details: Kick In The Eye is a 3-monitor installation which takes advantage of some technological and physiological phenomena. Description Two monitors are arranged, on plinths or wall mounts at a height of approx 1.7m and approx 6.5m apart. The monitors are connected to a video source (e.g. DVD player) via a unit which switches the video signal successively to each monitor at two second intervals. A third monitor is mounted centrally between monitor 1 and 2 at the same height. This monitor however is rotated 90 degrees to display in portrait rather than landscape format. The monitor is also configured to display a single vertical image (which appears as a bright white line). The space is dark and a central viewing area is arranged centrally approximately 6m in front of monitor 3.