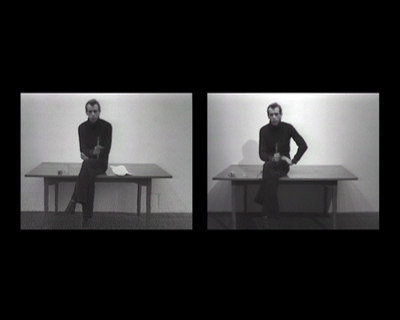 This work is part of the rewind archive.

Duration: 25m 28s - Original Version24m 58s - Third Version26m 31s - Final Version

Year: 1978

Original formats:

1/2 inch EIAJ reel-to-reel

Media types:

Video

Type of work:

Performance and Installation

Funding source: Self

First exhibited: Project Arts Centre Dublin 1978

'In Two Minds' is a two monitor video installation first exhibited in the Serpentine Gallery, London in 1978. This work consisted of myself on one video monitor asking questions of myself on the other monitor. The questions, typically of that time, largely address the nature of the piece itself. At the time of making the piece I had no intention of using it beyond the Serpentine show, the rough and ready state of the black and white tapes attest to this. However, the 'open' or 'incomplete' nature of the work allows me to 're-enter' it and create a new version, where as a fifty five year old man I can answer the questions put to me by my twenty seven year old former self.
As a complement to the first work the 'future' version of 'In Two Minds' consists of me as a fifty five year old man-asking questions of my eighty one year old self. This is done through the use of make up and by myself acting myself as an old man. The basic principle of real time, so enshrined in the work from the seventies, is now broken. This and other transgressions than span a period of fifty-four years, twenty-six of which are yet to occur, is the subject of the work. The virtual nature of predicting the future also allows me to create fictional art works, make public my career aspirations, and to imagine how my personnel life might pan out.
– Kevin Atherton February 2006.

---

ACGB programme for 'Video Artists on Tour' 1985 pdf here.