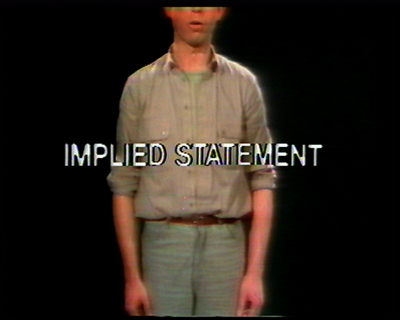 Contributor(s):
Ian Spalding (Chief Engineer, University of Brighton Media Services)
This work is part of the rewind archive.

Duration: 5m 51s

Year: 1980

Original formats:

1" SMPTE Type C

Media types:

Video

Type of work:

Single Screen

Funding source: Self

First exhibited: 1981 Tate Gallery

Technical details: Used chroma-keying.

"Following on from the simple deployment of chroma-key in Cloud Cover, I planned a more complex use of the device, which would include a parallel use of spoken text. I had discovered that a readily available coloured mounting board available from any artists suppliers, gave better results for chroma-key than the officially recommended shade of blue. Using a standard sized example of this board as a kind of moving matte, I built up several layers of my own image wearing different coloured clothes to distinguish them. After one or two layers, the eye and the brain tend to get lost in the confusion. To make things worse I am reciting a scripted lit tony of common English phrases, in which the word 'blue' is replaced by 'etc' hopefully the viewer would experience this as a semantic/sensory overload." Mick Hartney, March 2008.