Ian Breakwell's Continuous Diary (1984)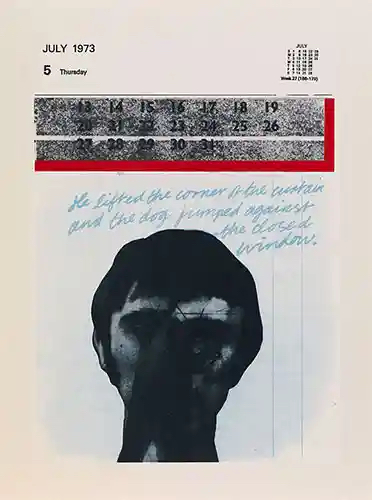 Contributor(s):
Annalogue Productions for Channel 4 - Producer Anna Ridley
This work is part of the rewind archive.

Duration: 21 Programmes (142 mins in total)1. 4'272. 2'463. 4'414.The Walking Man, 5'055. 4'046. 2'577. 5'038.April 18th 1984, 7'009.October 12th 1982, 6'5510.Growth, 12'3911. 3'5312. 4'0513.13th May 1984, 8'1914. 5'1515.The Public Bar, 4'2616.27th March 1984, 3'5417. 4'2018. 4'3719. 5'4920.Celebration, 7'0021.Birthday After the Night Before, 10'55

Year: 1984

Original formats:

1" SMPTE Type C

Media types:

Video

Type of work:

Videotape

Broadcast: Channel 4, UK

Funding source: Channel 4 TV

First exhibited: 1984 Channel 4, UK

Technical details: 21 Programmes

'My Diary is, as a personal witness, that of description and observation and speculation, pondering on what might be now: what is on the other side of that wall? that door? those closed curatins?' – Ian Breakwell

Developed from Ian Breakwell's published Diaries, these 21 short works provide an objective, compassionate, often humorous and bizarre view of events that happen around us daily.

---

Promotional Card for Breakwell's Continuous Diary.pdf here.

---

Image – news about independent film and video 1987. Features Breakwell's Continuous Diary.pdf here.

---

Riverside Studios programme flyer. pdf here.

---

Museum of Modern Art Dept of Film 'Video Viewpoints'.pdf here.

---

Exhibition Programme for Ian Breakwell's 'The Diary' and related works.pdf here.

---

Invitation to Channel Four cinema preview of Ian Breakwell's 'Continuous Diary.'pdf here.

---

List of progammes that make up Breakwell's Continuous Diary.pdf here

---

Riverside Studios 'Dadarama & Ian Breakwell's Diaries' – Artists' works for Channel 4 Television, 1985. pdf here

---

Quotes:

Breakwell's interest in the marginal and the unnoticed embraces the socially marginalised too, which is his work's political dimension. The Diary is full of chance encounters with the homeless, and perhaps its most consistent theme is isolation – in The Walking Man Diary (1979) particularly, the twin impulses of curiosity and compassion towards those who confront us as strangers, present in all the Diary works, become particularly pronounced. There is often something uncomfortable and challenging about his encounters, the detached observer's alienation sometimes seeming as shocking as the subjects it depicts.