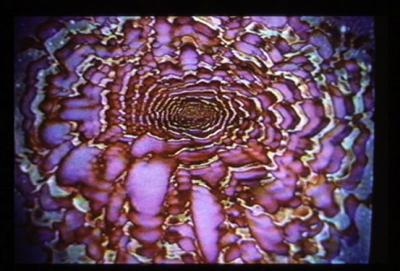 This work is part of the rewind archive.

Duration: 6m 50s

Year: 1974

Original formats:

2" Quadraplex

Media types:

Video

Type of work:

Videotape

Broadcast: May 1974 BBC2 UK

Funding source: BBC

First exhibited: May 1974 BBC2 UKFirst artists' video to be commisioned and nationally broadcast in the UK

Technical details: The imagery and sound were performed and recorded by Simon Desorgher and Donebaur playing together in real time with both participants having visual and aural feedback of each other's transforming contributions as they affected the piece in real time and thus in turn their own continuing contributions. The techniques involved manipulating the studio in ways for which it was never designed to explore the potential for a form of Electronic Painting equivalent to the Electronic Music. It was unable to be produced at a BBC studio, it was recorded as an outside broadcast from the Royal College of Art studio in Kensington.

---

'Entering' Description of the work. pdf here.

---

Handwritten description and technical details of Peter Donebauer's pieces, including 'Entering'. pdf here.

---

Description of Peter Donebauer's work and process, includes description of 'Entering'. pdf here.

---

Flow Diagram entitled 'Figure 2' for the creation of the work 'Entering' pdf here.

---

National Film Theatre, Programme Notes – 'The New Avante Garde'. Description of 'Entering' pdf here.

---

Page for The Video Show Catalogue, Exhibition, 1-25th of May 1975, Serpentine Gallery, London pdf here.

---

Photographs of the BBC recording for 'Entering' pdf here.

---

'Video Art and British TV', an article written by Mark Kidel for Studio International, 1976, includes information on Peter Donebauer's involvement in the BBC 2 TV show 'Second House'.pdf here.

---

Quotes:

"Peter Donebauer (b.1947) had the advantage of having an early colour TV system to experiment with. Entering (1974) was one of a series of works made during a residency at the Royal College of Art, using the colour TV studio donated by ATV. Commissioned by Mark Kidel for BBC2's art programme Second House, its mandala-like imagery and synthetic sound were performed 'live' by Donebauer and composer Simon Desorgher, and recorded in real time. Later Donebauer and engineer Richard Monkhouse developed the Videokalos sythesiser, as an image-sound performance instrument that allowed them to work closely with musicians in 'live' largely improvised performances. Entering was transmitted by the BBC in 1974."
David Curtis, A History of Artists' Film and Video in Britain. British Film Institute, 2007.