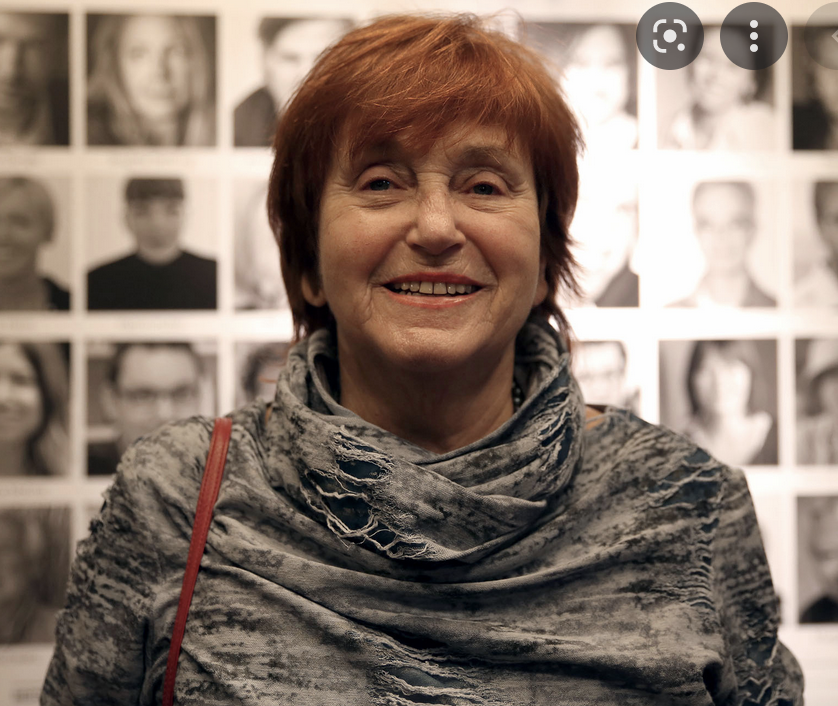 A pioneer in film, video and installation art, VALIE EXPORT has produced one of the most significant bodies of feminist art in the post-war period. Her groundbreaking films and performances in the 1960s and 1970s introduced a new form of radical, embodied feminism to Europe, examining the politics of the body in relation to its environment, culture and society. The multi-disciplinary nature of EXPORT's 'Expanded Cinema' practice and use of her own body as an artistic medium positions her as one of the earliest performance artists alongside Joseph Beuys and Allan Kaprow.
Through her artistic representations of the self, EXPORT questions the (female) body as signifier and bearer of information, challenging viewers by examining the politics of eroticism, the male gaze and liberation. In the Body Configurations she began in 1972, EXPORT uses her own body to visualise the internal accommodations made to nature, architecture and culture. Contorted in response to architectural landmarks or the natural environment, the artist undermines the physical boundaries between self and surroundings. As she explains, 'This analogy between scenic and bodily arrangements, these common forms of revealing mood, have served since the beginning of pictorial art as projection surfaces for expression: external configurations, whether they are in the landscape or in the picture […] serve as the expression of internal states.'
VALIE EXPORT lives and works in Vienna, where she co-founded the Austrian Filmmakers Cooperative. Since 1968, she has taken part in numerous international exhibitions, including documenta 6 and 12 (1977 and 2007) and the Austrian Pavilion at the Venice Biennale in 1980. In recent years, the Staatliche Kunsthalle Baden-Baden (2020); Neue Berliner Kunstverein (2018); Lentos Kunstmuseum Linz (2017); Kunsthaus Bregenz (2011); Belvedere Museum, Vienna (2010); Israel Museum, Jerusalem (2009); and Centre Pompidou, Paris (2007) have devoted major solo exhibitions to her work. EXPORT has taught at a number of international institutions, including the University of Wisconsin, San Francisco Art Institute and University of the Arts in Berlin. From 1995–2005 she was professor of multimedia and performance at the Academy of Media Arts in Cologne. In 2019, she was awarded the Roswitha Haftmann Prize in recognition of her outstanding contributions to the visual arts. VALIE EXPORT will receive the Max-Beckmann-Prize of the City of Frankfurt 2022.
With the purchase of her premature legacy, the VALIE EXPORT Center Linz was founded in 2015, laying the foundations for an international research centre for media and performance art.
Exhibitions:

Selected exhibitions:
*1970 Galerie Klewan, Vienna.
*1975 Valie Export, Works from 1968-1975, Musée d'Art Moderne, Paris.
*1976 Photography/Film, Galerie Szutukildk Labirynt, Lubin.
*1976 Valie Export, Body Configurations, Galerie Krinzinger, Vienna.
*1977 Valie Export, Body Configurations, Galerie Stampa, Basel.
*1977 Body Splinters, Galerie nächst St. Stephan, Vienna.
*1978 Photography/Film, Modern Gallery, Lubin.
*1980 Galerie Mike Steiner, Berlin.
*1980 Body Splinters, Forum Stadtpark, Graz.
*1980 Body Splinters, Galerie Maerz, Linz.
*1980 Video Projects, Photographies, Stedelijk Museum, Amsterdam.
*1980 Biennale di Venezia, Venice.
*1981 Bücher und Kunst, Vienna.
*1982 Sammlung Dr. Buse, Hamburg.
*1985 Body Configurations, Antiquariat Walter Wögenstein, Vienna.
*1986 Body Works, Eubie Blake Museum, Baltimore.
*1988 Vivre un Tableau Vivant, Antiquariat Walter Wögenstein, Vienna.
*1988 Valie Export, Hardley Martin Gallery, San Francisco.
*1990 Valie Export, Galerie Griss, Graz.
*1990 New Computer Works, Museum Moderner Kunst, Vienna.
*1990 Reading through Objects, Galerie Grita Insam, Vienna.
*1990 Glassy papers, EA_Generali Foundation, Vienna.
*1991 Cinematographic Installation, Römiscer Keller, Salzburg.
*1991 Geometry of the Body, Galerie Fotohof, Salzburg.
*1991 In the Continuum of the Body, Galerie Barbara Gross, Munich.
*1992 Valie Export: Alive or Dead, Landesgalerie Linz, Linz.
*1992 Photographic Documentation, Freie Künstlergruppe, Freiburg.
*1992 Body Configurations, Aspekte Galerie, Munich.
*1992 Österreich Film- und Video-Retrospektive, Moviemento, Linz.
*1993 Objective, Brechthaus, Berlin.
*1994 Fragments of Images of a Touch, Voralberge Kunstverein, Bregenz.
*1994 Photographic Works, Rhytmogram, Galerie an de Landesmusikschule, Bad Ischl.
*1994 Installations, Galerie Museum Bolzano, Bolzano.
*1996 Valie Export: body/sign/action, University Art Museum, Berkeley.
*1996 Filmswerkschau Valie Export, EA_Generali Foundation, Vienna.
*1996 Feminale, Cologne.
*1996 Valie Export, Dresden and Cologne.
*1997 Split Reality: Valie Export, MUMOK, Vienna.
*1997 Masks: Approaching the Shoa, Jüdisches Museum, Vienna.
*1997 Valie Export: Images of Contact, Deitch Projects, New York.
*1997 Valie Export, Galerie Fotohof, Salzburg.
*1998 Valie Export, Austria Cultural Forum, Bratislava.
*1998 Valie Export Editions 1971-1998, Galerie Oliver Schweden, Munich.
*1998 The Cut in Space Architekturzentrum Wein, Vienna.
*1998 Trans: Territories or the Houses of the Tortoises, Residenzgalerie, Salzburg.
*1998 Psycho-Prognoses, Neuer Aachener Kunstverein, Aachen.
*1999 Project Fire, KULM, Pichelsdorf.
*1999 FOTOFO, Bratislava.
*1999 Light Installation, Donaufelderhauf, Vienna.
*1999 Conceptual Photography, Galeria Wilma Tolksdorf, Frankfurt/Main.
*1999 Landscaping, Erinnerungsstätte Allentsteig, Allentsteig.
*2000 Metanoia or Another View of Things, Galerie Taxipalais, Innsbruck.
*2000 Valie Export: Body Configurations 1972-1976, Klemens Gasser & Tanja Grunert Inc., New York.
*2000 Ob/De+Con(Struction), Goldy Paley Gallery, Philadelphia.
*2001 Metanoia, Edith-Ruß Haus, Oldenburg.
*2001 Installations, Maltz Gallery, Los Angeles.
*2001 Ob/De+Con(Struction), Santa Monica Museum of Art, Santa Monica.
*2001 Traces:ID – Gravis, Antiquariat Walter Wögenstein, Vienna.
*2001 Kunus Export, Gütelbrücke Lerchenfelder Gürtel, Vienna.
*2001 Metanoia, The Brno House of Arts, Brno.
*2002, Valie Export, Patrick Painter, Santa Monica.
*2002 Pol'yp*to"ron, Charim Galerie, Vienna.
*2003 Valie Export, Centre National de la Photographie, Paris.
*2003 Valie Export Media Anagrams, Akademie der Künste, Berlin.
*2004 Valie Export, Camden Arts Centre, London.
*2004 Valie Export, Galerie Traklhaus, Salzburg.
*2004 Valie Export Retrospetive, MAMCO, Geneva.
*2004 Valie Export: Políticas de género, Museum National Centro de Arte Reine Sofia, Madrid.
*2004 Valie Export: un dia en 1967, Centro Andaluz de arte Contemporáneo, Sevilla.
*2004 The Power of Language, Freud Museum, London.
*2005 Valie Export: Workshow, Sammlung Esel-Kunst der Gegenwart, Klosterneuberg.
*2007 Valie Export, Centre Georges Pompidou, Paris.
*2007 The Pain of Utopia, Biennale di Venezia, Venice.
*2007 Valie Export, Film und Videos, Österreichisches Filmmuseum, Wiener Festwochen, Vienna.
*2007 Wellen, Galerie Stadturm, Gmünd.
*2007 Quality Street, Frankfurt.
*2007 Dead People Don't Scream, Klemens Gasser & Tanja Grunert Inc., New York.
*2008 Valie Export, Indes, Stockholm.
*2008 Valie Export, Athens School of Arts, Athens.
*2008 Valie Export, Charim Ungar Contemporary Berlin, Berlin.
*2008 Valie Export, Studio Stefania Miscetti, Rome.
*2008 Valie Export, Wahrnehmung, Vienna.
*2009 Valie Export, The Israel Museum, Jerusalem.
*2009 Open Up Communication, Tanzquartier, Vienna.
*2010 Time and Countertime, Lentos Kunstmuseum, Linz.
*2010 Der Transparente Raum, Vienna.
*2011 Archiv, Kunsthaus Bregenz, Austria.
*2011 Schwarz weiß ist mir Farbe genug, Chari Ungar, Berlin.
*2011 Body = Language, Centro de Arte Contemporānea e Fotografia, Belo Horizonte.
*2013 Images of Continfence, Berlin.
*2014 Kunsthaus Wein, Wein.
*2014 Charim Gallery, Vienna.
*2015 Valie Export: Expanded Cinema and More, Museum der Moderne, Salzburg.
*2016 Galerie Labirynt, Lubin.
*2017 Das Archiv als Ort künstlerischer Forschung, Lentos Kunstmuseum, Linz.
*2017 Bodies and Boundaries, Kristinehamns Kunstmuseum, Sweden.
*2017 Multimediale Bemerkungen, Grieth-Haus, St. Ulrich im Greith.
*2018 Body Politics, Galerie Thaddaeus Ropac, Salzburg.
*2018 Research – Archive – Oeuvre, NBK, Berlin.
*2018 Farma et Infarma, Schloss Ambras, Innsbruck.
*2018 Body Configurations, Galerie Thaddaeus Ropac, Paris.
*2019 The 1980 Venice Biennale Works, Galerie Thaddaeus Ropac, London.
*2019 Research – Archive – Oeuvre, Vox, Montreal.
*2019 Expanded Arts, Pavillon Populaire, Montpellier.
*2020 Fragmente einer Berührung, Kunsthalle, Baden-Baden.
*2020 Valie Export:Import, MARe, Bucharest.
*2020 Hommage a Valie Export, Lentos Kunstmuseum, Linz.
*2020 Collection Care, Francisco Carolinum, Linz.
*2021 The Paradox of Stillness: Art, Object and Performance, Walker Art Center, Minneapolis.
*2021 Mother! Louisiana Museum of Modern Art, Humlebaek.
*2022 Body and the Territory, Mazej Suvremen Umjetnosti, Zagreb.

Videography:

1966

Gedichte

1967

Selbstportrait mit Kopf
Selbstportrait mit Kamera

1967/8

Cutting

1968

Tap und Tastkino = Tapp und Tastfilm

1968/73

Sehtext: Fingergedicht

1969

Die süße Nummer: ein friedliches Konsumerlebnis

1970

Selbstportrait mit Augen
Fragmente: Burgenland
Body Tape

1970/73

Hauchtext: Liebesgedicht

1971

Facing a Family

1971/74

Schnitte/ Elemente der Anschauung

1972

Interrupted Line

1973

Asemie – Die Unfähigkeit, sich durch Mienenspiel ausdrücken zu können
Mann & Frau & Animal
Hyperbulie
Bewegte Bilder über sich bewegende Personen
Adjungtierte Dislokationen
…Remote…Remote…

1973/74

Raumsehen und Ramhören

1973/78

Adjungtierte Dislokationen II

1974

Body Politics

1977

Invisible Adversaries
Delta. Ein Stück

1978

I (Beat (It))

1979

Restringierter Code

1980

Menschenfrauen

1983

Syntagma

1985

The Practice of Love

1986

Die Zweiheit der Natur

1989

Aktionskunst International: Dokumente zum Internationalen Aktionismus

1998

Bilder der Berührungen
Die un-endliche/-ähnliche Melodie der Stränge

2002

Tote Menschen schreien nicht

2007

Tote Menschen schreien nicht II
The Voice as Performance, Act and Body

2009

I Turn Over the Pictures of My Voice in My Head

2010

Anagrammatische Komposition mit Würfelspiel (nach W.A. Mozart, Klavier) für Sopransaxophon

2011

Valie Export- Metanoia

External Links: