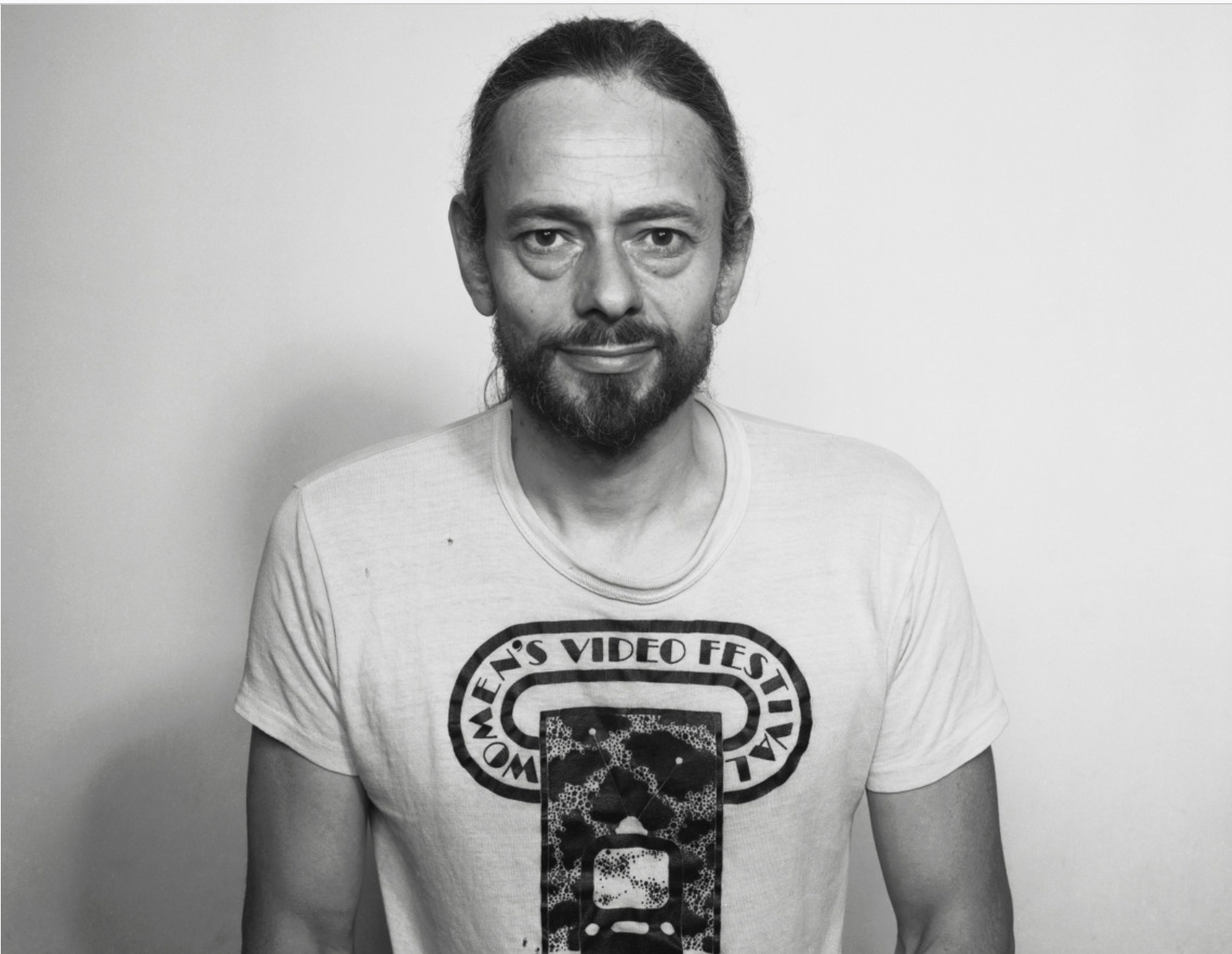 John 'Hoppy' Hopkins, born in Slough in August 1937, died January 2015.
"Hopkins founded TVX with Cliff Evans, which was the first British TV workshop and video research centre in 1969, and subsequently Fantasy Factory with Sue Hall. Hopkins and Hall made many video works, including social reportage: Ben's Arrest, Song of Long Ago, Squat now whilst stocks last and Bungay Horse Fair and as TVX 'experimental happenings' at the BBC in the 1970's." J.Hatfield
John Hopkins, known to his friends as Hoppy, graduated from Cambridge with a master's degree in Physics and Mathematics and embarked upon what was to be a short career as a nuclear physicist. However, a graduation present of a camera was to change his career route significantly.
He arrived in London in 1960 and began to work for the Sunday Times, the Observer, Melody Maker, Jazz Journal and Peace News, "Melody Maker because I was into jazz, Peace News because… well, one does."
Hoppy photographed The Stones, The Beatles and Marianne Faithful in their prime, and with his greatest passion, jazz, captured striking images of Duke Ellington, Dexter Gordon, Thelonious Monk and Louis Armstrong. These portraits evoke the personalities of his subjects through the spontaneous, unpretentious way in which Hoppy worked.
In stark contrast he recorded the seediness of Notting Hill in the sixties, with photographs of grubby tattoo parlours, bikers, cafes, prostitutes in their small bed-sits and bizarre local fetishists.
Hoppy worked as a photojournalist for a comparatively short period and by 1965 he began to drift into the London psychedelic scene. During that time he recorded many of the diverse events that embodied Sixties counter-culture. In addition to music he documented peace marches, poetry readings with a naked Allen Ginsberg, and twentieth century icons such as Martin Luther King and Malcolm X.
During the mid 1960s he helped establish a publishing company, organise two Notting Hill carnivals, promote Pink Floyd, found the underground newspaper International Times, set up the London Free School and start London's first psychedelic club, UFO, where Hendrix would call in and jam. He spent much of the 1967 summer of Love in prison serving a ludicrously vindictive sentence for the possession of marijuana.
By the closing years of the 1960s he had become a pivotal, even legendary, figure in the London underground scene. For Hoppy these times offered "just a great opportunity to take pictures of people I loved for free."
"At IRAT, The Institute for Research in Art and Technology, among the artists and organisations that came together to occupy this factory, was the Film-makers Co-op among them were Malcolm Le Grice, Dave Curtis, Annabel Nicholson and John Lifton, There were various departments and my gang was called TVX as the video department of this burgeoning institute!"
– John Hopkins REWIND interview
update June 2022
Interview of John Hopkins and Sue Hall and

Videography:

Videotapes

1969
Mobile Video Unit

1970
Electric Newspaper (collaborators: TVX, Cliff Evans)
Area Code 615 "Scotland"

1974
Squat Now Whilst Stocks Last (collaborators: Graft-On)
Zappa "Tell Me You Love Me"
Bens Arrest (Reportage Squatting Used In Court)

1975
You Can Make It If You Try
Song Of Long Ago (ext)
Wally Hope At Watchfield

1976
Bungay Hourse Fair (ext)

1977
Xeron TV 999 "Quite Disapointing" (ext)

1979
Com Com Commercial

1980
Slow Scan Is Slow Scam (ext)

1989
Days Of Chaos

1991
Li & Ling (ext)
The Nineties

Artist works:

Artist assets:

Quotes:

"Variously described as "doyen of the counterculture" and "the fastest man in London", John 'Hoppy' Hopkins was born in Slough in August 1937. At boarding school he formed a boogiewoogie society and got into trouble with authority. At Cambridge he took a degree in Natural Sciences. Around this time, he met the poet Michael Horowitz who ran a literary salon at his home in Oxford. It was here that Hoppy first encountered the Beat poets and picked up the flavour of an Alternative lifestyle. Hoppy took a job as a nuclear physicist at Harwell Nuclear Facility. At the end of the 1950s, Hoppy and several friends decided to drive to Moscow in a renovated hearse for a holiday. After several adventures, Hoppy returned and found himself seriously de-briefed by MI5. Once it had been established that he was not a spy, it was made clear to Hoppy that he would be welcome to report in this capacity should he choose to visit Russia again. Hoppy's response was to resign his job at Harwell and join the Campaign for Nuclear Disarmament. On January 1st 1960 Hoppy arrived in London with a black and white camera with the intention of teaching himself photography and earning a living as a freelance photographer. Thereby began a career photographing CND rallies for "Peace News", jazz and pop musicians for "Melody Maker", social and political themes for "The Guardian" and the Sunday newspapers and whatever else happened to take his fancy. Hoppy worked all the time and it became clear that he had a very unique talent with a camera. He described it simply as "clicking the shutter at the right time" but Hoppy had an unerring knack for doing this. It was while doing a job for Melody Maker that Hoppy met Joe Boyd handling press for a visiting American blues and jazz package. They became friends and Boyd invited Hoppy to America to photograph the Newport Jazz Festival. Whilst there, Hoppy was impressed by the burgeoning American Underground Press. This sowed the seed for what would become International Times. Back home, Hoppy involved himself in the Notting Hill Free School, instrumental in reviving the Notting Hill Carnival. As a spinoff from this, Hoppy promoted small events at the All Saints Hall – a church hall in Notting Hill - featuring the nascent Pink Floyd, complete with the first light show seen in the UK. Somehow, Hoppy found time to teach himself offset litho printing and, with Jim Haynes and Miles, began publishing International Times - Britain's first "Underground" newspaper, its birth being celebrated at a party at London's Roundhouse in October 1966. Hoppy and Boyd then started the UFO Club in order to showcase the new music and film makers and artists who had begun to spring up at that most fertile time. Hoppy made the decision to give up freelance photography in order to concentrate on the paper and the club, organising such events as the "24 Hour Technicolour Dream" at Alexandra Palace in April 1967. Tragically, Hoppy was jailed in June 1967 for nine months. Ostensibly for allowing his home to be used for smoking marijuana, the real reason being that Hoppy had been correctly identified as the hub and heart of the Underground and the Establishment wanted it stopped. Hoppy emerged from Wormwood Scrubs in 1968 and helped set up the first Alternative centre for legal advice: the prototype for Release. At the end of the 60s he began working in video - a medium he saw as the future and in which he worked for the rest of his life. With his partner Sue Hall, Hoppy set up Fantasy Factory, the first video editing facility of its kind in the world. Diagnosed with Parkinson's Disease shortly before his 70th birthday, Hoppy continued to work as best he could in his chosen fields right up to his death in January 2015. Hoppy was profoundly opposed to tyranny. Throughout his career, he was primarily interested in the democratisation of access to information. His influence remains profoundly felt if not always acknowledged, and his photographs remain his most enduring legacy. Written by Adam Blake for the Bishopsgate Institute Website © Adam Blake 2021 " we have been looking at society in terms of the disaffiliated and other groups within it, and have developed the concept of Social Matrix in which to describe our findings. The Social Matrix is a map of society seen from the individual's point of view, and we feel it will be of tremendous use to any group or government wanting to communicate with the disparate and decentralised activity that is now part of young society." Letter to Andrew Page at the Arts Council 12 December 1969. In files at BAFVSC.

"Why should art be the domain of the few and not the many? Shouldn't democratization of culture, and in our case the liberation of communications technology for public access, be an integral part of our actual art activity? We demand the unity of technology, art and politics; the unity of information, meaning and effect." Sue Hall and John Hopkins (1976) 'The Metasoftware of Video', Studio International, May/June,p.260.