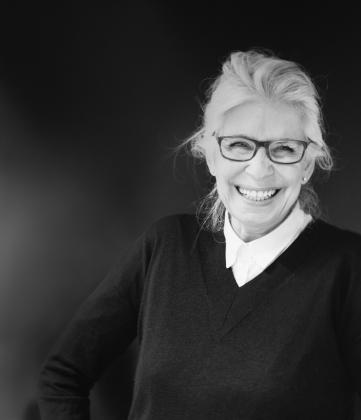 Marie-Jo Lafontaine (born November 17, 1950) is a sculptor and video artist from Antwerp (Anvers), Belgium. She now lives and works as a Professor of Media Arts at the Karlsruhe University of Arts and Design in Brussels, Belgium. Lafontaine studied from 1975 to 1979 at l'École nationale supérieure d'architecture et des arts visuels.
Lafontaine has worked in many media including "tapestries" in which she weaves black-dyed wool into linear patterns; sculptural work using plaster, concrete, and lead; and photography. In 1980, Lafontaine started using video in her sculptures and has created installations and environments utilizing video.
She was awarded the Prix de la Jeune Peinture Belge in 1977; in 1986 she was awarded a FIACRE grant from the French Ministry of Culture, and in 1996 she won the European Photography Award.
updated june 2022
Exhibitions:

1980 La Marie Salope à la 11e Biennale de Paris au Centre Georges Pompidou
1981 Round around the Ring au Musée d'Art Moderne du Centre Georges Pompidou, Paris
1984 The Luminous Image au Stedelijk Museum# d'Amsterdam
1985 A las Cinco de la tarde à la Tate Gallery de Londres
1987 Les Larmes d'Acier à la documenta 8 à Cassel, Allemagne
1988 Les Larmes d'Acier au LACMA (Museum of Contemporary Art) de Los Angeles
1989 Savoir, retenir et fixer ce qui est sublime à la Whitechapel Art Gallery de Londres

1999 Ivre d'éternité j'oublie la futilité de ce monde au Musée du Jeu de Paume de Paris
2002 BMW Project Lost Paradise à Munich, Allemagne
2006 I Love The World, film projeté sur les dix immeubles les plus hauts de Francfort (Allemagne) lors de l'ouverture officielle de la Coupe du Monde de Football de la FIFA.
2007 Dreams Are Free ! Exposition rétrospective musée des Beaux-Arts de la ville d'Angers, France.
2007 Come To Me! Exposition rétrospective musée Jean Lurçat et de la tapisserie contemporaine à Angers, France
2008 Come To Me! Rétrospective quasi-intégrale au musée du Botanique de Bruxelles, et à l'église Gésu (voisine du Botanique) annexée pour l'occasion29.
2008 Dance The World ! Musées Royaux d'art et d'histoire, Porte de Hal.Bruxelles
2009 Babylon Babies & Les Baigneuses , Musée National d'Histoire et d'Art-Luxembourg
2009 Dark Poll & Les Bains de St Josse, à la Galerie Samuelis. Bielefeld.Allemagne
2011 Alice In Wonderland, à la Klinik Buchinger Wilhelmi, Überlingen.Allemagne
2012 Les Larmes d'Acier spotlights video kunst à ESSL MUSEUM Der Gegenwart. Austria30
2013 Troubled Waters, à la galerie Guy Pieters à Knokke-Zoute, Belgique
2013 Babylon Babies & La Jardin d'Enfants pour l'ouverture de la Maison des Artistes au Château de Chimay, Belgique
2014 Victoria & Liquid Crystal, pour l'ouverture de la Maison Lempertz à Bruxelles31
2014 Museum To Scale 1/7, Galerie Ronny Van de Velde32
2015 Soudain le ciel devint bleu! à la Galerie Guy Pieters à Saint-Paul de Vence, France
2016 Be-Side-Me MMXV, à la Galerie Guy Pieters à Knokke-Zoute et à la Galerie Quai 4 à Liége, Belgique
2016-2017 Le Monde Clignote! chez Arendt & Medernach à Luxembourg
2017-2018 Ecce Homo & Babyon Babies à l'exposition de groupe organisée par la Galerie Geukens & De Vil et Rick Rinckhoud, Antwerpen, Belgique

Videography:

Installations vidéos

La batteuse de Palplanches (1979)
La Marie-Salope (1980)
Round Around The Ring (1981)
Le Rêve d'Héphaïstos (1982)
His Master's Voice 1(1983)
His Master's Voice 2 (1983)
Attaco (1984)
A las cinco de la Tarde (1984)33
Le métronome de Babel (1985)
L'enterrement de Mozart (1986)
Les Larmes d'Acier (1986)
Victoria (1988)
Passio (1989/90)
We are all shadows (1991)
Jeder Engel is schreklich (1992)
La Mer (1994)
Ivre d'éternité, j'oublie les futilités de ce monde (1995/96)
The Swing (1998)
City Room (1999)
Chill out (1999)34
I love the World (2006)
Under the waters / Dark Pool (2007)
Kontrol Station (2007)
The World starts every minute (2007)
Dance the world! (2008)
Brussels Swings! (2017)

Artist works:

Quotes:

Critic Konstanze Thümmel describes the dominating themes her post-1980s video work as "association between Eros and Thanatos, passion and reason," and it Lafontaine explores these "...through powerful images of people and animals in extreme situations."[