Gazzano, Marco Maria (Writer, researcher)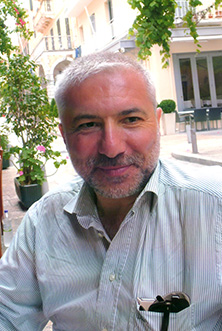 (Born 1954, Turin – died Rome, 07/06/2022)
An expert of cinema and electronic art, Gazzano was Associate Professor of Cinema, Photography and Television in the Faculty of Literature and Philosophy at the Third University of Rome (Università degli Studi Roma Tre), where he taught "Cinema, Electronic Arts and Intermediality" from 2003.
He graduated in Contemporary History, Ph.D. (1986) in Performing and Electronic Arts, and from 1993 to 2006 he taught "Theory & History of Cinematography" at the Faculty of Literature and Philosophy in the University of Urbino "Carlo Bo".
Since 1989, he was President of Kinema, a Cultural Association based in Rome, managing expositions, educational and non-profit initiatives as well as an archive for videographic works from quality television and new television. The fund consists in about 10,000 pieces created by some of the most important international authors from the Sixties to the present.
From 1985 to 1996 he was the Director of the Locarno VideoArt Festival (CH).
From 1990 to 1994 he was also the Director of "Cinema from Europe Mosaic. The Small Countries and Regions of the European Communitiy" (Cinema dal mosaico Europa. I Piccoli Paesi e le Regioni della Comunità Europea), Rome/Bruxelles.
From 1996 to 2001 he directed Art & Communication. International Bienniale of Electronic Arts, Quality Television & Multimedia Publishing Trade. (Arte & Comunicazione. Biennale internazionale delle arti elettroniche, della televisione di qualità, dell'editoria multimediale), Rome; the international exhibition Italia, Europe and South America Tower of Peace. The strategies of art against the strategies of violence (2002-2010).
From 1990 to 1993 he took part in the realization of experimental broadcast programming for RaiSat, an Italian satellite TV channel owned by RAI and broadcasted by Sky Italia, as an innovative television programme's author, and he has realized some "Thematic Events" for Arte, a Franco-German TV network, which aims to promote quality programming related to the world of arts and culture.
From 1999 to 2003 he was the Director of Ars Tv Network, a European satellite TV channel.
The European Council conferred on him an official recognition for his multi-annual electronic arts and quality television promotional activity, both in university discussions, meetings, reviews and through satellite television; in 2000 he was awarded the ìLaser díorî from International Association for Video in Unescoís Art & Culture, France.
From 1992 to 1995 he represented Italy in MEDIA 1 programme, a European Commission programme for the improvement of ìSmall Countriesî in Regional Cinema.
From 1997 to 2008 he attended the Cinema & Audiovisual European Days, programmed by European Commission in Turin (Italy), Athens (Greece), as well as in European Parliamentís meeting places in Strasbourg (France) and Brusselles (Belgium), contributing essays on the relationship between cinema, television and electronic art.
From 1982 to 2008 he organized and directed several international conferences on the relationship between Cinema and New Technologies, with the University of Naples "Federico II", the University of Pescara "G. D'Annunzio", University of Rome "La Sapienza", University of Turin, University of Urbino and the Third University of Rome (Università degli Studi Roma Tre).
In Italy and abroad (Switzerland, France, Spain, Greece, Brazil and the Republic of Slovenia) he is a curator of exhibitions and reviews, and conceived expositions and published monographs:
– Le giornate delle arti/La Zattera di Babele (Rome/Turin/Paris/Erice; 1984-1988)
– Il Novecento di Nam June Paik. Arti elettroniche, cinema e media verso il XXI secolo (Rome 1992; Madrid 1993) – The 1900's of Nam June Paik. Electronic Arts, Cinema and Media towards the 21st Century;
– Mario Sasso. Architetture elettroniche. La Città, la Televisione (Turin 1994) – Mario Sasso. Electronic Architectures. The City, the Television;
– Robert Cahen. Musica per gli occhi (Urbino 1994) – Robert Cahen. Music for Eyes;
– Steina e Woody Vasulka. Video, media e nuove immagini nellíarte contemporanea (Rome 1995) – Steina e Woody Vasulka. Video, Media and New images in Contemporary Art;
– VideoArt '66-'96. il Tempo, la Luce, la Materia (Lugano, CH, 1996) – VideoArt '66-'96. Time, Light, Matter;.
– Torre della Pace. Le strategie dellíarte contro le strategie della violenza (Rome, Pesaro, Urbino, Milan, Paris 1999-2006) ñ Peace Tower: Artís Strategy against Violenceís Strategy;
– Arti elettroniche e Televisione (Pesaro 2006), Electronic Arts & Television;
– L'instabile materia: Amodei, Cahen, Paik (Roma 2006) – The Unstable Matter: Amodei, Cahen Paik
– "Open Cage": Cage e Paik, una relazione creativa (Milano 2007) – "Open Cage": Cage and Paik, a creative relationship.
– Satellite & Arte, 1969-2009 (Università Roma Tre/Eutelsat, 2009)
He edited the anthology "Il cinema dalla fotografia al computer. Linguaggi, dispositivi, estetiche e storie moderne" (Urbino 1999, 2003) and "Cinema from Photography to Computer.Languages, Devices, Aesthetics and Modern Histories", and the monographic issues n. 554/555 (2006) and n? 565 (2009) of "Bianco & Nero" journal, published by the Experimental Cinema Centre of Rome. These issues are dedicated to electronic and intermedia arts and Italian cinema and European cultures.
In 2010 he edited the anthology Cinema e arti elettroniche. Verso l'intermedialità (Torino) – Cinema and Electronic Arts. Toward the Intermediality.
In 2012 he published the anthology of his essays and paper in the volume in M.M.Gazzano, Kinema. Il cinema sulle tracce del cinema dal film alle arti elettroniche, andata e ritorno, Exòrma, Roma 2012.
In 2012 he became an Honorary Professor of the University of Dundee.
Interview of Marco Maria Gazzano

View the interview transcript here

Artist assets: